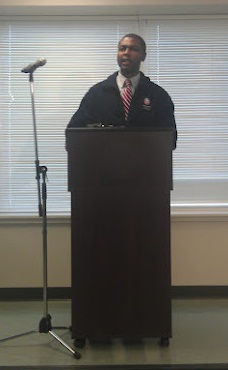 More than 50 Chicago residents, almost all with criminal backgrounds, learned how they can help lawmakers in Springfield pass a bill that would amend the state's criminal record sealing law at a town hall meeting Saturday on the West Side.
As the state's criminal record law stands now, only three felony offenses – prostitution, possession of cannabis and possession of controlled substances – can be considered for sealing.
Activists at the town hall said they want to see other non-violent and non-sexual offenses sealable so more reformed offenders can get jobs, housing and college grants.
Rep. La Shawn Ford (8th), sponsor of the bill, along with representatives from the National Association for the Advancement of Colored People, the Safer Foundation and Cabrini Green Legal Aid, were on hand to answer questions from the audience.
Without the public's help, Ford  said he will be "eaten alive" in Springfield.
"It's not going to be easy," said Ford at the town hall meeting held at the Center for Employment Training, 100 N. Western Ave.
"No one can advocate for this bill better than the person who needs it."
When a record is sealed, it's available to judges, law enforcement officials and government agencies, among others, but not the general public.
Paul Haidle, staff attorney and criminal record expert at Cabrini Green Legal Aid, which provides free legal services to low-income Chicagoans, said Illinois' criminal sealing law is "pretty progressive" compared to other states.
"Unfortunately, it's only good as far as it goes," Haidle said at the meeting. "It's very limited, but there are other alternatives out there besides expungement and sealing. Don't give up hope."
Ford said the ex-offender community and other members of the public can help pass the bill by making phone calls to state representatives, senators and the governor. Advocates for the bill should also make an appearance in Springfield, he said.
"If we're going to pass this bill this year, you're going to have to be involved," he said. "Some form of the bill will pass if you spread the word, and make it go viral."
The ex-offender community is huge, and there is power in numbers, Ford said. He suggested people post the bill to their Facebook page and Twitter feed. The public can also participate in a viral phone banking campaign by calling (217) 782-4040.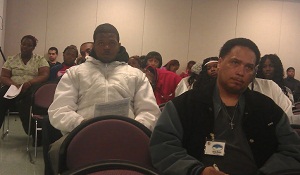 "If you really want change, I would suggest you stand up and say you want the seal bill passed and you want to be able to work in Illinois, so you can be a contributing citizen," Ford said.
But after 30 minutes into the meeting, more than 20 people in the audience left.
Melissa Williams, criminal justice committee chairwoman of the NAACP's Westside Branch, took to the podium.
"This is a huge part for a number of folks in our communities, not just African Americans, because this is not just a black issue," said Williams. "So, I'm just asking you to give it a few more minutes, not just for yourself, but for the people in your family, and the people in your community that need this information, too."
She said the speaker's free advice on how to go about sealing and expunging records is worth thousands of dollars.
"We're going to give you free legal services; we're going to have Anthony from the Safer Foundation do free second chance services," said Williams. "We've got Rep. Ford doing free services and introducing a bill that he's telling you he's going to get eaten up on for your behalf."
This is not a game, she said.
"This is not a joke," Williams said. "We know this; we need this."
Anthony Lowery, director of policy and advocacy at Chicago's Safer Foundation, an organization that works to prevent recidivism by providing education and jobs skills to ex-offenders, asked the people in the room to raise their hand if they have a criminal record.
Nearly everyone in the room put up their hand.
"That's what I thought," he said.
Lowery said the criminal record is the most debilitating life-long stigma that a person can carry to the grave.
"When an employee sees that record – not only conviction, but arrest – they are throwing (the application) in the garbage and setting the garbage on fire," Lowery said.
It's very important the public participates in this process, he said.
"Can you make one phone call?" Lowery said.