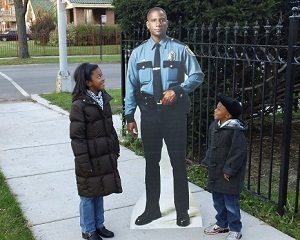 Police are dispatched to Near North neighborhoods nearly twice as much as Austin, according to new data.
Consider two intersections in Austin.
In the summer, if you walk from any of the residences in the zero-hundred block of North Mason Street and head north to the corner, you will see lilies, hostas and other flowering plants, adjoining well-kept residences, each surrounded by black wrought iron gates.
If you head south, you will have to step around discarded food containers and slip through the knot of adults and youths loitering loudly as they hustle drugs and drink alcohol from visible bottles.
Community members who live near this southern corner, like too many others throughout Austin, say they are frustrated and fearful. They share low expectations about how the police will respond to their call for help.  Since they don't expect the police to show up,  many have stopped calling 911. The presence of police is viewed skeptically.
One resident recounts being disturbed by activity in front of his garage as he prepared to take his children to school one morning. A group of drug patrons was lined up in the alley waiting for a delivery.
Given his past experiences with 911 calls, he decided to get in his car and drive around the area to locate a police car; he found one about five blocks away.  In response to his request for help, he says, the officers drove to the alley, slowed down to look, and then drove away without getting out of the car.
Another longtime resident said that in her experience, the police show up long after a problem has peaked and the damage has been done; police glide by the scene later in their cars, she said. It seems to her that better police services are only available to those with a higher income and a strong alderman.
Police officers, off the record, talk about the lack of support for time spent addressing quality-of-life crimes, such as drug sales, public drinking and disorderly conduct.  Police management spoke of the need to increase the number of police officers available to send out when someone calls 911.
In order to measure and compare police response times in Austin and in other communities, Freedom of Information requests (FOIAs) were submitted to the Office of Emergency Management and Communications.
That office, which maintains statistics on police response to 911 calls, refused to release any data on response times. The Office of Emergency Management and Communications has maintained that making this data public would provide too much information about police operations to criminals.
As an alternative measure of police responsiveness, FOIAs were submitted for the number of 911 calls and the number of police cars dispatched by police district in Austin and four North Side neighborhoods.
For the month of July 2010, more cars were consistently dispatched on the North Side per call – in some cases twice as many.  A review of data for the entire year shows that Austin received the lowest number of cars per call across every service type.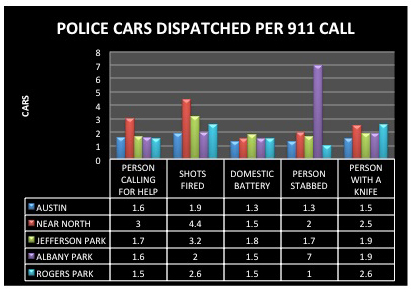 The media have reported on these inequities for years.  In October 2011, the American Civil Liberties Union told the Chicago Sun-Times that "every governmental and independent study and media investigation over the past two decades has found substantial inequities in the assignment of police officers."
Statistics showing Austin's greater need for services are readily available on the Chicago Police Department web site, which contains reports for each police district.
These show that Austin – the city's most-populated neighborhood – has at least twice as many violent crimes as three of the four North Side communities. If there is, or should be, an emphasis on crimes against persons rather than property, Austin clearly has a need for more police services.
In addition, reports summarizing concerns reported by residents in each district show a far higher rate of complaints about narcotics in Austin than in the North Side neighborhoods.
Residents of Austin are now turning to the courts for help. The Central Austin Neighborhood Association joined with the American Civil Liberties Union of Illinois in November 2011 to file a lawsuit in Cook County court against the city.
They charge that the city's method of allocating police services violates the Illinois Civil Rights Act of 2003, which makes it unlawful for government to provide services in a way that negatively impacts any racial group.
The lawsuit requests that the court order the city to change its methods and develop a plan to guarantee equal police services.
Upon learning of the lawsuit, Mayor Emanuel defended his actions since taking office.
"We have applied more resources to the areas that need them, and we're not done, and we constantly take a fresh look, and it's not static," he said.
It has been more than six months since a new mayor and a new police superintendent took over management of the city's limited resources. If we visit those corners in Austin, you will find that there has indeed been change. The plants are dead on the north end of the block.
This article is supported by a grant from the Local Reporting Initiative of the Chicago Community Trust. The author is founder of the Central Austin Neighborhood Association, which is party to the lawsuit mentioned in this story.