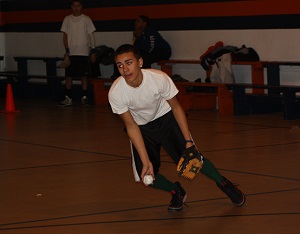 The Austin and Garfield Park Little League teams have joined forces this baseball season with hopes of being more competitive once Chicago games start April 28.
The merging of the two community leagues will bring together more than 500 kids and their parents, making it one of the largest community organizations on the West Side, said Frank Brim, president of the Garfield Park Little League.
This is the second year the Little League program has been offered in Austin. Last year, Austin's league had 300 kids but only one baseball diamond in the community to practice on, said Austin's Little League President Tommy Bowling.
"It was an adventure," Bowling said.
Last season, players couldn't practice at Columbus Park, because the fields were mainly used for soccer and were torn up from cleats. The park also has poor drainage and is still in the process of being revamped, Bowling said.
The league now has eight baseball diamonds the kids can share as well as other resources, such as volunteers and indoor practice space.
Carlton Jones, who oversees Little League's 12th District, which includes Austin and Garfield Park, said the merger happened because of the lack of baseball diamonds in Austin but also to unite the communities.
"Before the merger, it was Austin guys and Garfield guys, and now it's West Side ball," Jones said.
Hundreds of West Side children are "being constructive playing baseball" and working together to make it to the Little League World Series, Jones said.
"At night we've got access to fields with lights," he said. "We have them playing instead of hanging out on the streets doing God knows what."
But the kids won't only be working on their batting averages.
The league also offers mentoring, tutoring and ACT prep classes for its players at no extra cost, Brim said.
He said he hopes the merger will attract younger kids in the area to take up the sport.
"The West Side is a basketball community, but we're trying to keep baseball alive," he said.
Children ages four to 18 can still sign up for the Austin and Garfield Park Little League. There is a fee to register. Click here or send an email to garfieldpark@gmail.com for more information on how to join.