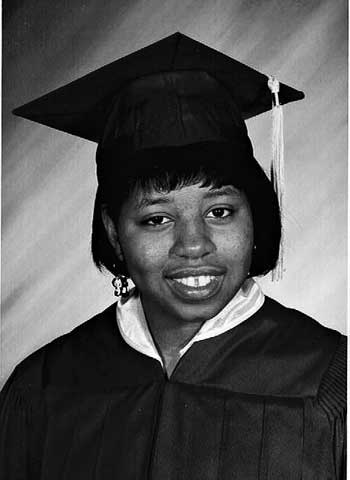 I will attend the "Too Many Victims Vigil" at St. Sabina and Unity Temple vigils in memory of my daughter, Rolanda Lakesia Marshall, who would have celebrated her 33rd birthday Jan. 8th if she had not been shot in the head 18 years ago.
When I got the call on that fateful day – Aug. 28, 1993 – from her best friend Latoya Davis telling me that Rolanda had been shot in a drive-by shooting in Beefee Resaurant at North Avenue at Lockwood, our life has not been the same.
All it took was a moment in time for my daughter to be taken from us forever and to leave me with a broken heart. Like a sore that never heals, every time it get a little better it opens again and I have to start over.
The gun violence continues every day in our cities and nation, and this is a reminder for me of Rolanda being killed.
We held out hope for nine days at her bedside that she would come back to us whole like she was. She was only 14 and in good health, but it was not to be, and on Sept. 9, 1993, I had to let her go. She was removed from life support.
This was enough to destroy my family, but I had to hold them together as she left three sisters: Cherese, Ramona and Shanett; and her brother Andre; a nephew Kevin JR; her stepfather Andrew who died nine years later from a broken heart; and her father Sylvester Marshall, who died some years later also from a broken heart as he had a son Sharron killed just two days before his beloved Rolanda died. This was too much for him to bear.
Then my great-nephew Lloyd Edward Ware Jr. at age 27 was shot Sept. 15, 2002, so we have had too many gun violence deaths in my family.
I just wish it would stop and that there were more sensible gun laws. So I will continue to stand with the gun violence victims here in Chicago and Illinois against conceal-carry so we won't have to hold even more vigils in the years too come.
I'll just leave you with this quote: "When those who are not injured by crime become as indignant as those who are, then justice will be achieved."
And this quote, too: "It was my child yesterday. Will it be yours tomorrow?"
I stand in memory of the Tucson, Ariz., victims – those dead and alive. May you be stregenthen by some of the postings and vigils that will take place Jan. 8, 2012.
I know I will light a candle to my daughter Rolanda (Kesia) and my nephew Lloyd – and all the lost loved ones.
God bless you and all people.