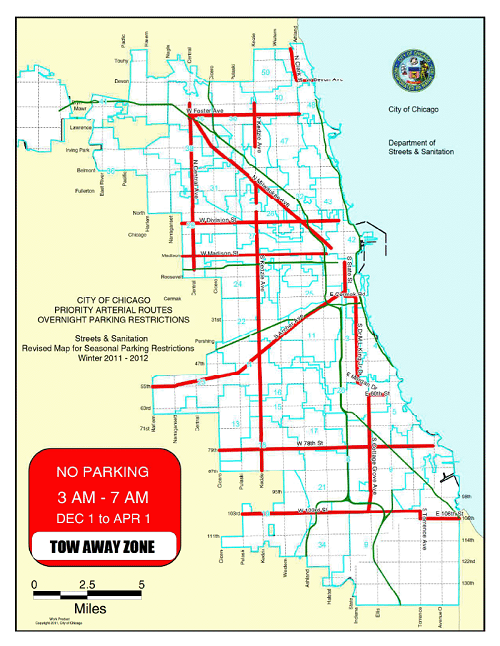 Chicago's winter overnight parking ban, the seasonal parking restriction for 107 miles of the city's most critical arterial streets, resumes Thursday, Dec. 1.
The ban will be enforced from Dec. 1 through April 1, 2012, between the hours of 3 a.m. to 7 a.m., regardless of snow.
In Austin, the ban covers West Division and West Madison streets as well as Central Avenue.
Drivers who ignore the overnight ban prevent these critical routes from being fully plowed and salted when it snows. During a heavy snowfall, build-ups of snow next to parked vehicles on these routes further reduces the streets capacity to handle critical traffic.
"The overnight parking ban is in place during the winter to make sure that critical routes are up and running at all hours so that emergency vehicles, buses and other traffic can get through," said Streets and Sanitation Commissioner Thomas G. Byrne.
Violators who ignore the ban face a $150 towing fee (minimum), a $50 ticket and a storage fee of $10 per day that increases over time.
The first day of the ban last winter, 215 motorists were towed for violating it. And despite heavy news coverage of enforcement efforts, 127 motorists ignored the posted restrictions and were towed on the second day.
The permanent signage that marks the winter overnight parking ban route is posted next to signs for the 2-inch snow parking ban along 107 miles of the broader 500-mile-long snow route system.
The snow route system was created as a result of lessons learned from massive snow storms, including the Great Blizzard of 1967.
While the 2-inch snow ban can technically be activated at any time of the year, this restriction is not activated often and is only a factor during the winter months. Motorists who violate it face ticketing and relocation to a nearby site. Motorists need to watch for and obey both restrictions.