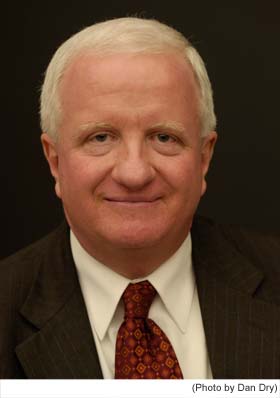 The board of directors of Goodcity today announced the appointment of a new leadership team headed by Rev. Charles Jenkins II as president and CEO and Sean B. Harden as chief operating officer.
They're replacing Michael T. Ivers, who served since May 2001 as president of Goodcity, a business incubator for social entrepreneurs and emerging non-profit organizations.
"It is with bittersweet feelings that I share my decision to depart Goodcity following a decade as its president and embark on a new path on my spiritual journey as president/CEO of the Yuma Community Food Bank in Yuma, Ariz., where my wife, Dr. Greta Ivers, has accepted a position as the family medicine physician on the Fort Yuma Indian reservation," Ivers announced earlier this month.
Goodcity Board Chairman Brad Wilks said the 25-year-old group is "exceptionally pleased to have individuals of the caliber of Charles and Sean assume the leadership within our organization."
"We believe their combined vision and track record of operational excellence will help take Goodcity to the next level of its development as we advance our mission of identifying and supporting high-potential community-based entrepreneurs who are seeking to solve social ills and systemic problems within under-resourced communities in the Chicago area."
Jenkins is senior pastor of the historic Fellowship Missionary Baptist Church, a rapidly growing multi-location congregation with more than 8,000 members. He is a well-known for his innovative thinking, contemporary leadership, business savvy and holistic approach to social change and large-scale community development. Since becoming senior pastor at Fellowship 11 years ago, Jenkins has more than quadrupled weekend attendance.
"I am very excited to join Goodcity and look forward to working with our great team and extraordinary leaders around Chicagoland to support more of Chicago's most innovative social entrepreneurs to solve real problems within our communities and make our world-class city and other cities even greater," he said.
Jenkins is also spearheading an expansion effort known as The Legacy Project, with the goal of changing the landscape of urban Chicago while producing cultural amenities, vocational opportunities, an educational hub and becoming a life-changing focal point for all Chicagoans.
Jenkins served on Chicago Mayor Rahm Emanuel's transition team. He also serves on the board of trustees for City Colleges of Chicago, Clear Channel Chicago Advisory Board, Illinois Attorney General Advisory Board and the Daystar School Board of Directors.
Jenkins earned a bachelor's degree from Moody Bible Institute and a master's degree from Trinity Evangelical Divinity School. He's married to Dr. Tara Rawls-Jenkins and has two daughters, Princess and Paris, and one son, Charles Jenkins III.
Before joining Goodcity, Harden served as the deputy CEO for Chicago Public Schools; deputy commissioner of Human Relations for the city of Chicago; and executive assistant to Mayor Richard Daley for interfaith and community affairs.
"For years, Goodcity has been quietly working in the trenches providing invaluable support to emerging non-profits and entrepreneurs throughout Chicago, and now it's time to make some noise," Harden said. "It is my goal to make sure everyone across the country comes to know and support this incredible organization. I'm honored to have been selected to be a part of such a dynamic group of individuals who are committed to changing lives and strengthening our communities."
Harden is expected to put his 10 years of executive leadership experience to use immediately, as the organization looks to aggressively expand its impact in Chicago. He will oversee Goodcity's day-to-day operations, partnerships, services and customer base.
He's a graduate of Morehouse College and received certification in project management at DePaul University.