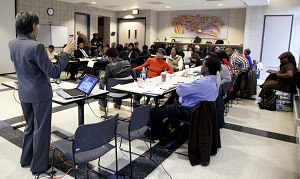 Dozens of entrepreneurs got advice Saturday on how to start and make a success of their business.
The small business boot camp, held at the 15th Police District, was sponsored by Citibank, US Bank, the Westside Ministers Coalition and The Monroe Foundation.
"How do I get people to grasp onto my idea and support it?" asked Phyllis Duncan, 53, founder of Mothers Of Murdered Sons, an expanding non-profit she established six years ago to support mothers who've lost their children to violence.
The boot camp featured presentations by Otis Monroe, founder of The Monroe Foundation, and Valerie Leonard, a community development consultant.
Leonard presented a slideshow titled "Navigating The Winds Of Change: Positioning Your Organization For Success" in which she discussed business and strategic plan development, gave tips on how to assess readiness to start a business; and shared strategies on how to establish credibility in the marketplace.
Duncan said the boot camp taught her how to tap into funding and further develop leadership within her organization.
"Before coming here, my problem was running the whole organization by myself. They showed me I need to re-structure my board and get people that I know will work more efficiently on a volunteer basis," she said.
This is the third small business boot camp facilitated by the city of Chicago and the 20-year-old Monroe Foundation.
"We need to strengthen the capacity of non-profits and small businesses; with banking opportunities we can enable them to compete more successfully," said Monroe, whose group advocates for community and economic development initiatives in neighborhoods like Austin.
"We feel that Austin is a neighborhood that has a number of significant community and economic development opportunities," said Monroe. "The way to ensure that groups in the Austin community begin to prepare for those opportunities is to help them have a skill set or strengthen an existing skill set that will allow them to emerge and position themselves in a beneficial place.
"Providing the educational workshops enables entrepreneurs to have a level playing field in terms of dialogue about the work they're doing," said Monroe. "When they come to a point where they are ready to talk about funding, they can connect with a financial institution that can become a vested partner in the organization."
Through the boot camp, Monroe said he aims to establish a partnership between financial institutions that are looking for ways to become more vested in their communities and non-profit organizations or small businesses that are ready for investment.
"Programs like the small business boot camp are organized to make it easy for local entrepreneurs to access the expertise, resources and financing they need to achieve their potential and succeed," said Helen Hammond Redding, senior vice president and Illinois state director for Citibank Community Development.
"We believe that initiatives like these are critical to creating jobs and fostering a vibrant local economy for Austin and all of Chicago's neighborhoods," she said.
Present at the workshop were representatives from Citibank and the South Side Community Federal Credit Union, with loan applications at the ready.
"I have a better understanding of what is needed in my business plan to increase my chances of funding," said Angela Williams, 48, president of The Zuri Group. Williams submitted a loan application to the South Side Community Federal Credit Union.
"I've done my business plan, but the workshop today showed me how I need to improve on it," she said.
The next boot camp, facilitated by The Monroe Foundation, will be held in Englewood. For information, contact Monroe at OMonroe@TheMonroeFoundation.,org or (773) 315-9720.