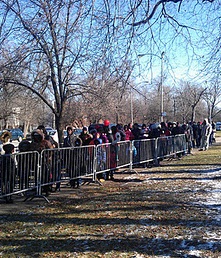 Children 12 years old and under received a free stocking stuffed with candy and toys along with a present. Kids could also have their picture taken with Santa.
Ald. Deborah Graham (29th), who helped sponsor the event with Loretto, 645 S. Central Ave., said "it's great to have a big toy giveaway in Austin."
"The community has come to expect it, and they enjoy it," Graham said.
She said many families lined up earlier than 10 a.m. when the event started.
"They don't even mind the cold," she said.
"They get the chance to experience Christmas early, and some of (the children) come from families that are experiencing hardships at this time of the year, so this is a burst of energy for them, and it's an excitement for us."
Regis Banks, an attendant for the Chicago Park District, another event sponsor, said over the past week, he helped decorate the building, which looked like Santa's workshop with heaping stacks of gift-wrapped presents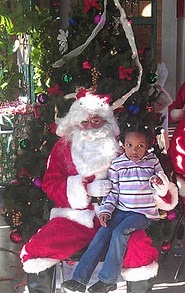 "There's nothing like seeing the kids smile," Banks said.
He said he's happy to help give back to the Austin community.
"It's exciting to see the unfortunate ones (children) walk away with a toy," he said.
The presents and toys were 12-year-old Xavier Moore's favorite part of the day.
"And I got to see Santa," he added.
His mother, Mary, said she and her son have attended the Christmas event in Austin the past five years.
"Every time I come here it's exciting," she said.
Michael Applegate, business development manager at Loretto, said the turnout was "phenomenal."
The hospital puts on the event because Loretto is strongly involved in the community, he said.
"(Loretto) believes in giving back."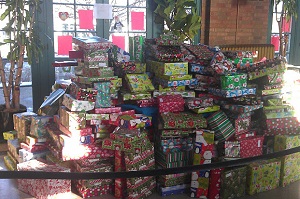 Carvone Merritt, 11, received his gift and stocking, and headed to pick up his picture with Santa.
Carvone said Santa told him to get "good good grades in school."
Then he asked Santa for a remote control car.
He said he enjoyed "coming to sign jingle bells and all the songs we heard."