About 150 Ronald E. McNair Elementary students received a free holiday gift courtesy of the Chicago Sun-Times Christmas giveaway on Friday.
The kindergarten through third-grade students wrote to the Sun-Times last month, asking for specific gifts for the holidays, McNair Principal Shirley Dillard said.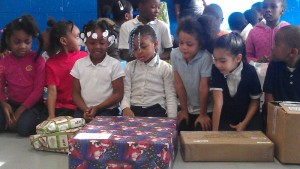 Each of the 150 students received one gift during the afternoon gift-giving assembly.
"Every year we write to the Sun-Times, and they honor the students with gifts," Dillard said.
Although teachers instructed the students to wait until Christmas to open their presents, that didn't stop some children from shaking their boxes side to side and peeking inside gift bags to figure out what they've received.
Jaylah Crosby, 8, said she's excited for Christmas because it's her favorite holiday, and she's able to see all of her family members.
"Today is so fun because I get to get my gift," Crosby said, holding her wrapped present. "I asked for a pair of boots, a make-up kit and an outfit."
Not all parents of McNair students are able to buy their children holiday presents for various reasons, Dillard said. About 99 percent of McNair students are low-income, according to Chicago Public Schools data.
"Some of (the children) don't get a gift," Dillard said. "So we make sure that at least one of them goes home with a gift in that primary level."
Jaliyah Wright, 8, asked for books, clothes and an arts and crafts kit for the holidays.
"I want some math and reading books," she said.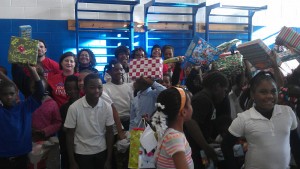 Marquel Robinson, 9, asked for a wrestling-man set and other games.
Robinson is excited for the holidays because "I get to see my family smile," he said.