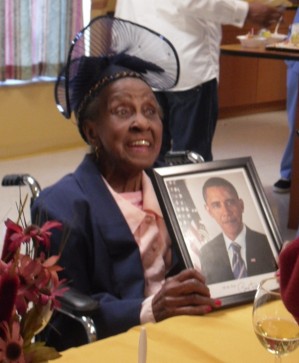 Four hundred years of life were celebrated this week at the Jackson Square Skilled Nursing and Rehabilitation Center.
State Rep. La Shawn K. Ford (D-Chicago) congratulated the four centenarians and presented them with a special certificate from the state of Illinois.
With news cameras rolling, the four women – Mary McMillian, 100; Dottie Lee Turner, 102; Grace Scarborough, 102; and Ghema Darnell, 103 – entered the nursing home's community room Sunday to celebrate the milestone of celebrating 100 years of life. Each wore a beautifully colored dress and matching hat.
About 60 family members, friends, nursing home residents and staff gathered to celebrate the four women, all of whom live at the nursing home.
Turner turned several heads with her charming smile, navy blue dress and Kate Middleton-esque hat.
Turner's niece, Marcy, described Turner as a very independent and sweet lady.
"Pray and wait" are the words of wisdom Turner offered. Turner said she never believed she'd see an African-American elected president but is thrilled she lived long enough for that to become a reality.
"I feel great," said Turner, as she asked Rep. Ford for a second glass of champagne because her first glass leaked.
Darnell, at 103 the oldest and more reserved of the four women, is an Alabama native and mother of six.
Geneva Searcy described her mother as a lover of books, western television shows, the daily news and Popeye's Chicken.
"She (Darnell) loves to know what's going on in the world. Yesterday, she asked me what President Obama was doing on the news," said Searcy.
The best piece of advice Searcy has received from her mother? "When you pray and you keep doing the same thing, God will not hear you."
McMillian, a Mississippi native, was described as a remarkable, hard-working and honest woman by her sons T.J. Young and Arthur Davis.
McMillian caused quite a stir and prompted laughter when she quickly finished her first glass of champagne and asked for a second.
Honesty was the trait that McMillian instilled in her children, Davis said.
Her great-granddaughter has fond memories of the summers she spent putting puzzles together with McMillian.
Scarborough, an Alabama native and mother of 10, was described as a church-going, loving mother by two of her daughters, Emma Davis and Jessie Henry.
Every Christmas and Easter, Scarborough bought each one of her daughters a single flower to wear in their hair.
"She didn't just send us to church; she went to church with us," said Henry.