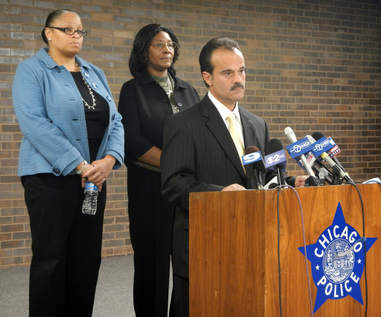 The South Austin Coalition (SACCC) will saturate the Austin community with Rape Alert! flyers today to inform local residents about the serial rapists terrorizing the neighborhood.
"We intend to mobilize a communication campaign that alerts the schools, churches, block clubs and places where people congregate to inform residents of the serial rapists," said Elce Redmond of the South Austin Coalition.
The Chicago Police are looking for one or more men who have committed a series of robberies and sexual assaults of eight women since late August.
The most recent assault occurred at 4:40 a.m. Friday, when the men robbed and assaulted a 24-year-old woman in the 600 block of North Leamington, the Chicago Sun-Times reported.
Eunice Reed, who lives in the 900 block of North Leamington Avenue, criticized police for not going public sooner about the crime spree.
"Why did they wait until there were (eight victims)? Now it's some big thing," Reed told the Chicago Tribune. If not the police, "community leaders or precinct captains or somebody should've warned us that this was going on."
At a news conference Friday evening, Harrison Area Cmdr. Anthony Riccio defended police efforts. Detectives had a suspect in mind after the initial Aug. 28 attack and put him under surveillance for a few weeks but later determined he was not involved, the Chicago Tribune reported him saying.
"Almost a month went by before the next incident," Riccio said. "These incidents are all grouped within the past week or 10 days."
Community members are invited to meet at 12:30 today at the Austin Senior Center, 5071 W. Congress, to help the South Austin Coalition get the word out about the sexual assaults.
West Side officials walked the neighborhood Satruday where the attacks have occurred and distributed crime alert flyers. Ald. Emma Mitts participated as did the 15th Police District and the Chicago Alternative Policy Strategies (CAPS).
Anyone with information about the crimes should call Harrison Area detectives at 312-746-8253.