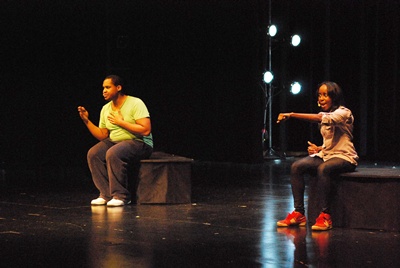 A partnership between Westinghouse College Prep High School and eta Creative Arts Foundation hopes to help end the "theater desert" on the West Side.
Westinghouse and eta's first production Flow opens tonight at 7. Performances are also set for Oct. 29, as well as Nov. 5 and 6.
Theater on the West Side is long overdue, says Phillip Thomas, eta's executive director. Bringing theater to an under-served area of Chicago is one of the main goals.
That partnership between Eta and Westinghouse is the result of a $75,000 grant provided by The Chicago Community Trust (which also has funded AustinTalks). Eta will stage 10 performances of three different productions, said Suzanne Connor, senior program officer of arts and culture at the Trust.
Westinghouse's state-of-the-art auditorium will be used to stage the performances, said Jada Russell, public relations representative for Flow.
Flow was originally an off-Broadway, one-man production starring spoken word artist Will Power. It's been reconceived by the eta as a two-person show directed by Sonita Surratt. Flow explores life's daily struggles and lessons, as told by seven modern-day griots, or West African storytellers. Thomas said they chose Flow because of its themes around hip-hop, and it's a youthful production.
The other two productions will be The ShowFolk Daytime Series for Youth featuring It Shoudda Been Me and The Tree That Grew Human, which will be performed Dec. 8 and 9.
Ten Westinghouse students will be selected by the school to help with the production aspect of the later performances, said Thomas, and the students will be allowed to shadow director Surratt.
Westinghouse Principal Janice K. Jackson, who has fond memories of taking school trips to watch the eta perform in its South Side theater years ago, said she's very excited about the partnership.
Currently, Westinghouse offers only an after-school drama club that Jackson hopes to turn into an in-school drama department during the 2012-2013 school year.
A few miles farther west, West Side native Arraon Hixson plans to open the doors for the first time of House of Hixson, 5851 W. Madison St., a local theater he's starting. Hixson will host an open house Nov. 5 at 5 p.m. Guest stars include Greg Hollimon, Bishop of Comedy and Meechie Hall. Donations will be accepted.
Doors open at the Westinghouse College Prep High School, 3223 W. Franklin Blvd., at 6 p.m. Oct. 28 for the 7 p.m. performance. Tickets are $10; only cash will be accepted. U.S. Rep. Danny K. Davis will host a community reception an hour before Saturday's show, which begins at 2 p.m. Other performances will be held at 7 p.m. on Nov. 5 and  2 p.m. Nov. 6.