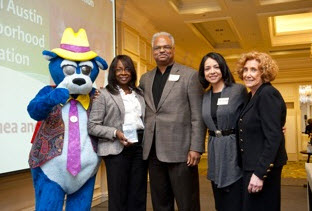 The beauty created by the Central Austin Neighborhood Association at nearly 20 intersections on the West Side has been honored by Keep Chicago Beautiful Inc.
Joyce Charmatz, president of Keep Chicago Beautiful Inc., presented the 2011 Neighborhood Beautification Vision Award to the 1-year-old group at the Four Seasons Hotel Chicago Sept. 27.
The Central Austin Neighborhood Association seeks to develop projects that unite residents and transform Austin into a more vibrant and attractive place to live, work, play and raise children. In May, we began our corner beautification project.
Our goals were:
Plant flowers on the intersections around a 16-square block area;
Encourage residents to participate in the planting and maintenance of the plantings;
Bring out the beauty in our neighborhood;
Increase the sense of community and ownership among residents.
By the end of June, we had completed plantings on 19 corners, including:
Washington Boulevard at Menard, Washington and Mayfield;
Menard Street at West End and Fulton;
Mason Street at Fulton.
This project was funded by donations of cash, plantings and labor from many supportive stakeholders, including local residents and businesses, multi-unit building owners and members of Third Unitarian Church.
The project was quite labor intensive. The Duke University Alumni Association started with us in May, and The Safer Foundation provided on-going support over several months, helping to plant, weed and clean up around the corners
We heard many complimentary comments from residents including:
"I've changed the way I drive through the area so that I can view the flowers."
"I smile every time I turn onto my street."
"I hadn't talked to my neighbor in years before this project."
"We appreciate your effort."
"How do I get on the list to have this done on my corner?"
We watched as people on foot and in cars stopped at the corners to take a longer look.
At the beginning of the project, some residents expressed concern that the work would be destroyed by vandals. We are pleased to report that not one of 19 corners planted was vandalized.
CANA hopes to expand beautification efforts next spring. We are encouraged and motivated by the outstanding response to our first effort.