Onijhia Jones, an 18-year-old senior at Al Raby School for Community and Environment, fought back tears as he watched live footage of the Sept. 11, 2001, terrorist attacks on the World Trade Center in his civics class Friday.
Jones, who lives in Garfield Park, was only 8 when the tragic events of that day unfolded. A few days shy of the tenth anniversary he watched – for the first time ever – what really happened.
"(Today) was the first time I saw any of it," he said, standing outside the school's north entrance after classes let out for the day.
"I was on the verge of crying, but if I wasn't strong enough, it would have happened."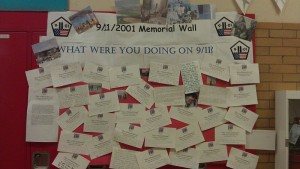 Jones' civics class was one of many courses at Al Raby that focused Friday's curriculum on 9/11. Science classes discussed the health ailments first responders have suffered; physics classes talked about safety; social studies classes learned about First Amendment rights and freedoms in the wake of the attacks.
Bill Weeks, special education teacher and service learning coordinator at Al Raby, said the students were just kids when the attacks happened, and it's important to educate the younger generations about that day and how it impacts the world around them.
"We hope students will gain an understanding of why we are at war in two different countries," Weeks said. "We hope people will walk away remembering."
During the last hour of school, Jones' civics class had a surprise visit from six members of Chicago's fire department. Jack Goosherst, who has served as a firefighter on the West Side for 13 years, read his account of 9/11 to the students.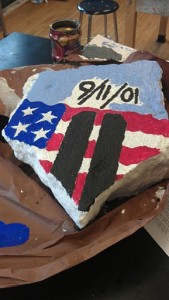 Goosherst said just like every firefighter he remembers where he was and what he was doing that day. On Sept. 10, 2001, he and other firefighters had had a long and busy night on the West Side. He went home the morning of Sept. 11 to go to bed.
"My phone rang, and it was my mother," he said. "Her voice was cracking as if she was trying not to cry."
He quickly turned on his television.
"As soon as I saw those horrifying images, my first thought was that there had to be hundreds of firefighters in those towers."
Then he saw the first tower fall.
"My heart sank," he said "I felt angry. I felt helpless."
Gooseherst said within hours of the attack, numerous brothers of the Chicago Fire Department and across the country were mobilizing to help the firefighters in New York.
"Sept. 11 is a tragic day that should not – and will not – be forgotten," he said
Chicago Fire Department Deputy Chief Anthony King also shared his thoughts with the students.
"It was terrible, it was a tragedy," he said. "It hurt, and it hurts now."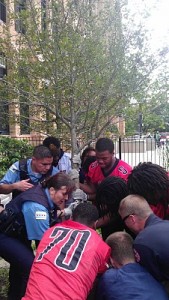 When class was out for the day, more than 20 Chicago firefighters and police officers assisted the school's football team with the planting of a Hawthorn tree at the school's north entrance as a memorial to the first responders at Ground Zero. An art class at the school painted a large, white rock with patriotic colors and the World Trade Center to serve as the tree's plaque.
Donna Roberts, a counselor at Al Raby's, wiped tears away at the sight of the uniformed officers and firefighters in front of the school.
"Our freshmen were 4 years old. They have no idea how the world changed after 9/11. They don't have that memory," she said. "It's important that they understand it."
Junior Ieisha Richards, 17, said after learning about 9/11 and seeing the tree planting she is devastated that so many innocent people – nearly 3,000 – lost their lives that day.
"I never saw pictures of the building falling," she said. "I was very sad. There were tears coming."