Monday night marked the final graduation ceremony of Bethel New Life's SmartSavers program. Since SmartSavers began in 2006, it has inspired and equipped 330 Chicagoans to save for long-term investments and achieve their dreams.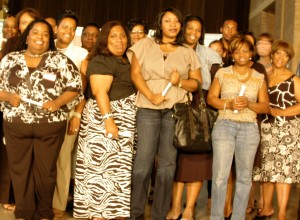 Graduate Yvonne Walker, who has been a resident of the Austin neighborhood for more than 30 years, will use her savings to purchase her first home.
"I have three granddaughters," Walker said. "We have always lived in apartments, and I wanted them to experience a home with a backyard and a flower garden. The program was good because it was in the neighborhood and it was easy to get there."
As part of the program, participants are challenged to save $2,000 of their personal income and complete financial education courses. Once they reach that goal, Bethel New Life matches their savings with $4,000. Collectively, SmartSavers graduates have invested more than $1.4 million in buying homes, obtaining higher education and starting businesses.
"Coming to the SmartSavers program was the best decision of my life," said graduate Fatima Ward-Johnson, a married mother of five who used her savings to open Accessory by Binx Inc., a jewelry business. "It not only opened doors for my family, but it reminded me that all things are possible with God."
Cook County Board President Toni Preckwinkle delivered the commencement address, affirming the impact the program has had on Chicago's economy.
"Democracy is at the same time the best and the most fragile form of government on earth. For the same reason, it depends on an active, involved, engaged citizenry," Preckwinkle said. "The commitments you've made and the work that you do are important not only for your life and your future, but the future of all of our communities. We need more organizations like Bethel New Life."
Special guest Laurie Wilkinson from Thrivent Financial for Lutherans handed diplomas to the nearly 100 graduates. Thrivent Financial, a Fortune 500 company, was the lead funder for the program. SmartSavers was made possible through a unique public-private partnership between Bethel New Life, Thrivent Financial for Lutherans and the U.S. Department of Health and Human Services' Assets for Independence program. Monday's graduation marks the end of the five-year public-private partnership.
Other graduates include:
Temaria Gaston of Garfield Park, who enrolled because she noticed a market for night daycare services in her community. As a result of completing the program, Gaston plans to open her own home daycare that specializes in evening and overnight childcare. "A lot of parents need daycare in the evenings because they work night jobs, but many day cares close during the evenings," Gaston said. "At SmartSavers, they helped me do a small business plan, connected me with people to assist me, and helped me open a business account. I learned how to save, and how to manage money better."
Michael Trout, a married father of five who resides in North Lawndale. He plans to use his savings to launch a video recording business to help families in the community record the life stories of their elderly loved ones. "The thing that stood out to me the most about the classes was the importance of cutting spending and keeping a log of how money was going out and where it was going to. We are all obsessed with getting more money, but one way to improve a financial situation is to stop wasting." Trout said he loved the program's emphasis on giving, and said that his family is sponsoring a child in Uganda as a result of his participation.
Richard Rowe used his savings to purchase a home for his family in Englewood. Having been a renter for 30 years, he enrolled in SmartSavers because he wanted to get ahead financially and accumulate something for the next generation. He credits SmartSavers with helping him understand credit. "Growing up in Chicago in the public schools, they really don't teach you about credit," Rowe said during his home inspection this week. "This is something that the parents need to be educated on, and the schools should teach this somewhere."