By Tina Chenault of Westside Health Authority
"What do we want?" "Stop the violence!" "Up with hope!" "Down with dope!"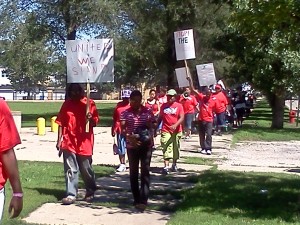 These chants rang loud Saturday as PLAN Members from Westside Health Authority hosted a "Stop the Violence" march at La Follette Park. Guests included Ald. Emma Mitts and the La Follette Park Little League Football team.
PLAN – which stands for Parent Leadership in Action Network – is one of five components under the Neighborhood Recovery Initiative in 23 communities.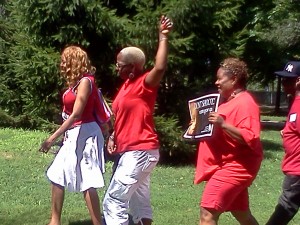 PLAN members conduct parent-to-parent outreach to educate Austin parents on those protective factors that are most essential in parenting today's youth.
These protective factors include: effective parent-teen communication, mental wellness, building resilience in our youth, and support and strengthening one another in a crisis.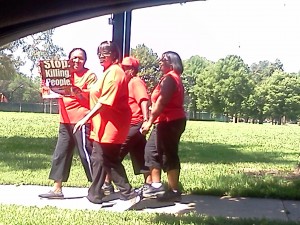 Saturday's march was one of PLAN members' responses to some of the constant concerns they have heard from parents. Seventy-some people joined in.
"This comes from our point of supporting and strengthening one another in a crisis. We're putting it in action. Because that's who we are . . . Parent Leaders in Action!" says PLAN Member Gwendolyn Sullivan.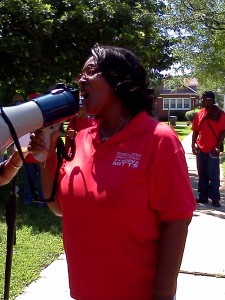 PLAN members will also attend Ald. Mitts Back-to-School Gospel Fest in La Follette Park Saturday, Aug. 6. They will be wearing red shirts with a PLAN name tag. For more information about PLAN, call 773-378-5034 or e-mail planproject@healthauthority.org.
A separate anti-violence march was held the same day in Austin. Mayor Rahm Emanuel and Police Chief Garry McCarthy attended the event, organized by Ald. Deborah Graham.
Another event happening Aug. 6 : The Human Needs Center, William V. Banks & Lillian Gill Grand Lodge is hosting its annual community parade and cookout at Levin Park, 5458 W. Kinzie Pkwy.
The parade line up begins at 11:30 a.m. at Madison Street and Central Park (facing west), with step off at noon. The cookout begins at 1 p.m. and continues until dusk. There will be tumblers, a dance team, cotton candy, snowballs and games. There will also be information for those persons interested in becoming Masons or Eastern Stars.