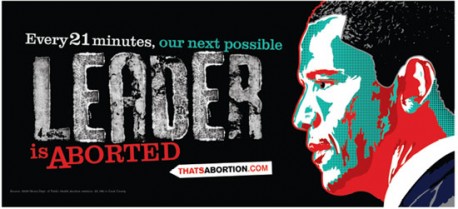 Abortion rights activists gathered in Austin Wednesday night to speak out against a series of controversial anti-abortion billboards targeting African-American women on the South and West Sides.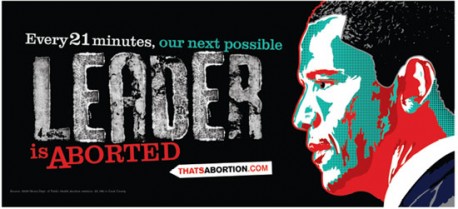 The billboards show an image of President Barack Obama with the words, "Every 21 minutes, our next possible leader is aborted."
Twenty-nine such ads have been put up in Chicago since March, activists say, including two in Austin – one at Chicago and Central avenues and another at Chicago and Menard avenues.
"They are offensive, they're racist, and they're demeaning to women," Carol Brite, president and CEO of Planned Parenthood of Illinois, said at the "Black Women Speak Out" event held at Austin Town Hall. "These billboards have been strategically placed near Planned Parenthood health centers … It's no coincidence."
Behind the billboards is Life Always, a Texas-based anti-abortion group whose ads targeting African-American abortion rates have sparked controversy around the country.
A Life Always billboard in New York City depicting a young African-American girl and the words "The most dangerous place for an African-American is in the womb" was taken down in February after numerous complaints.
In an interview Thursday, Life Always board member and Illinois representative Isaac Hayes defended the billboards and their specific placement within black communities, where abortion rates are "exorbitant and disproportionate," he said.
"It makes no sense to go to Schaumburg protesting gang violence. You go to where the problems are occurring and deal with them there," Hayes said.
Non-Hispanic black women had the highest abortion rates in a 2007 study from the U.S. Centers for Disease Control and Prevention – just over 32 abortions per 1,000 women between the ages of 15 and 44. Non-Hispanic white women had the lowest rates, at 8.5 abortions per 1,000. Hispanic women fell in the middle.
Sponsored by a long list of reproductive rights organizations, Wednesday's event was the fourth of its kind in Chicago and the first on the West Side. Women were asked to speak about their personal experiences with abortion and reproductive health.
Speakers, most affiliated with one of the host organizations, talked candidly about their abortions, tracing them back to a lack of sex education they received as children.
"I didn't understand how I could control my fertility," said Toni Bond Leonard, president of Black Women for Reproductive Justice, speaking about her four abortions – one of which, at the age of 12, was "botched" and nearly left her dead, she said. "I was no different then than a lot of women and girls now. They don't understand their bodies."
The Chicago Commission on Human Relations Advisory Council on Women denounced Life Always' campaign in April and issued a statement calling for the billboards to be removed.
"While we uphold the constitutional right to free speech, we reject the billboard's implication that African-American women are complicity with genocide," council chair Kendra Jackson said in the statement.
Jackson urged opponents to call their alderman's office or 311 with complaints, or to sign an online petition.
State Sen. Don Harmon (D-Oak Park) and state Rep. Camille Lily (D-Chicago) also attended the event.