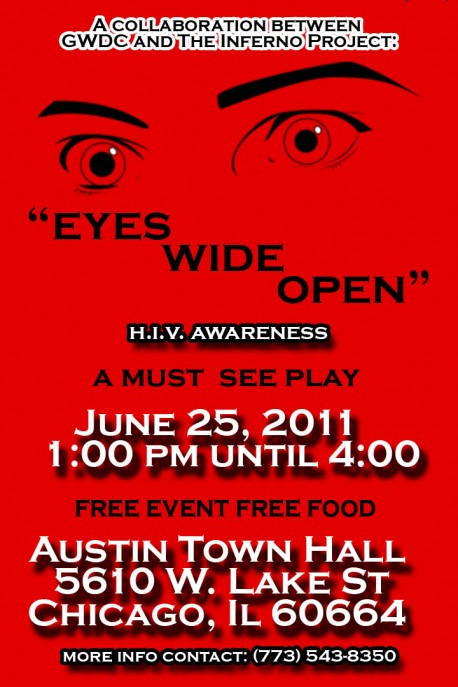 A new play will be presented this weekend in Austin with the goal of increasing awareness among African-American youth.
Eyes Wide Open – written by CJ True, directed by Second City member Ned Fulmer and sponsored by community organization Fight The Inferno – is a series of dramatic and comedic vignettes framed by a central story.
As a young couple weathering the first stages of romantic intimacy, a character named "Common Sense," a guardian angel of sorts, leads the duo through a series of skits and soliloquies acted out by a cast of 10 young actors – most of whom are high school or college-aged.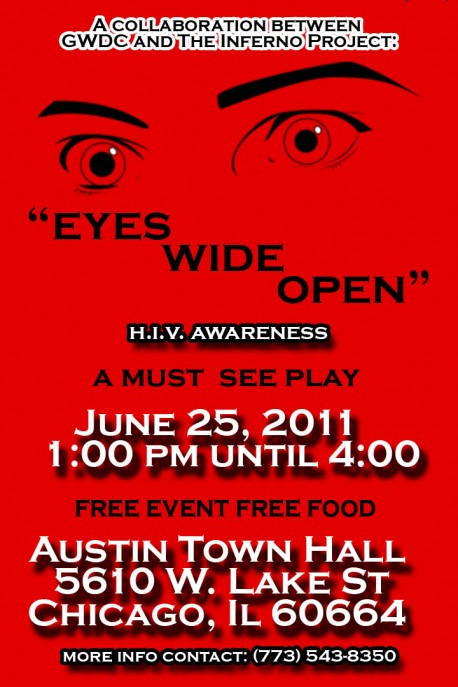 Fulmer says the fantastical narrative of Eyes Wide Open is similar to Charles Dickens's 1843 novella A Christmas Carol.
The skits range from spoofs of game shows and modern dramatic television series to more serious monologues about HIV/AIDS education, safe sex and dating.
"What we're trying to do here is create an interactive experience for our audience," said Terrell Brockington, a community activist working with Fight The Inferno. "We feel that with the interaction, the audience will retain more of what we put out there."
While the tone of Eyes Wide Open varies from dramatic to comedic, the message of educating youth aged 13 through 19 — for whom AIDS is shockingly prevalent — about preventing the virus's spread remains consistent.
It is a message that both Fulmer and Brockington say needs to reach its audience. During a recent rehearsal, Brockington reminded the cast that Eyes Wide Open has basis in stark reality.
"Remember, the scenarios you're acting here are real," Brockington said to the actors. "They happen."
Statistics from the Chicago Department of Public Health confirm that.
City health officials reported that as of 2010, Austin has the highest number of STD cases for youth aged 13-19. Additionally, HIV infections in Austin for the same age group are the second highest in the city.
While the total number of HIV/AIDS cases have declined, the Chicago Department of Health found that diagnoses for ages 13-19 actually increased by a startling 95 percent. In 2008, non-Hispanic African-Americans accounted for nearly two-thirds of all HIV/AIDS diagnoses in Chicago.
The all-too-common relationship between African-American youths and HIV/AIDS may be disheartening, but Fulmer says presenting this reality to an audience doesn't have to match the seriousness of the subject.
"Some vignettes are funny, some are really touching," Fulmer said. "There's a lot of facts and numbers and figures [to communicate]. It's a way of getting information across [to the audience] in an entertaining way, but that also makes it stick."
Brockington says Fight The Inferno plans to develop programs and plays with a message centering around individuals in the community taking responsibility for their own sexual health.
"Over the years, I think the virus has spread exponentially throughout our community because there hasn't been enough education [about HIV/AIDS] and enough attention [paid to the issue]," Brockington said. "I just think it's imperative that we develop programs that we can relate to, understand and get that message home."
In addition to educating its audience, actress Shalonda McClain says Eyes Wide Open can inspire optimism in those individuals living with HIV/AIDS.
"A lot of people give up hope," McClain said. "Just because you have the virus doesn't mean that your life has to stop."
Currently, there are nearly 21,000 people living in Chicago with HIV/AIDS.
Eyes Wide Open will be performed Saturday, June 25 at Austin Town Hall, from 1 p.m. to 4.