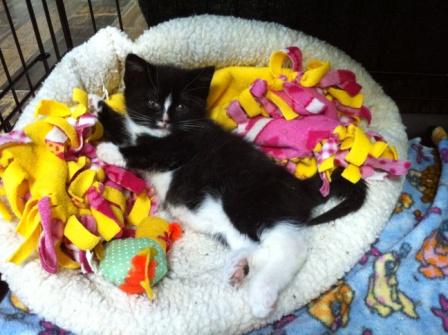 Austin is a 6-week-old female kitten, found in an alley and named after the neighborhood where she was found.
In about a month, Austin will be spayed, have her vaccinations and be ready for adoption.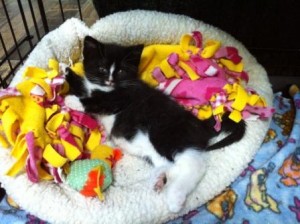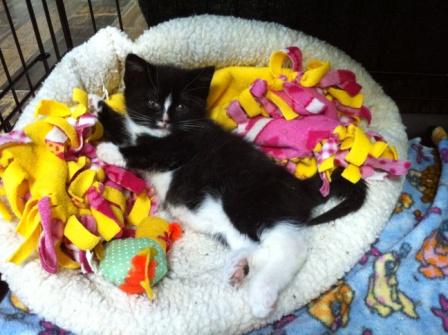 "She is a sweet, active, friendly, fearless kitty," said Jenny Schlueter, director of development at the Tree House Humane Society, the cageless, no-kill shelter housing Austin.
Austin is one of several kitties recently rescued from the neighborhood as part of the Tree House Targeted TNR Project, aka Project 60651.
Tree House received a $75,135 grant from PetSmart Charities to run the project, which will – for free – spay/neuter and vaccinate 1,500 cats and offer TNR (Trap, Neuter, Return) packages for every cat in the 60651 zip code.
"That particular zip code had some of the worst statistics as far as cats being relinquished to the city's Animal Control," said Schlueter, who's also the TNR program manager.
She said in 2009, Chicago Animal Care & Control took in 491 strays and 124 unwanted cats from 60651 addresses.
Taking into account unreported cases, Schlueter said the actual number is likely at least double that figure, which is why Tree House wants to reach out to the community and educate them – whether they have cats or not.
"We don't expect everyone to be cat lovers, but we want them to understand the benefits of the program and support their neighbors," she said.
This is the first time Tree House is targeting specific geographic areas in the program, which started five years ago. She said the project allows the organization to proactively reduce the number of cats euthanized from the area and greatly improve the lives of feral (un-socialized to humans) cats by establishing well-managed colonies of sterilized cats.
The grant money was given as part of the Phoenix-based PetSmart's nationwide High Impact Spay/Neuter Grant Program.
"They're a great group, and we think this will be a really important project," said Bryan Kortis, program manager for PetSmart Charities. "There are a lot of issues in that area. If they really hit that area hard . . . then it won't be such a problem area."
Many stray cats are feral, which makes them unsuitable for adoption or shelter placement, and Schlueter said TNR is the most effective way to control stray and feral cat overpopulation.
In this method, cats are safely and humanely trapped, sterilized, vaccinated, treated for parasites and ear-tipped (the universal symbol of a neutered/vaccinated cat). After a short recovery period, they're released back to their colony. If any of the trapped cats are friendly, including young kittens, they are adopted into good homes.
Although some opponents of TNR believe feral cats should be euthanized, that's considered an antiquated practice by others. Euthanizing has not worked to curb population control and it is certainly not very humane, said Dr. Colleen Currigan, a veterinarian who owns the Cat Hospital of Chicago.
Neutered feral cats are happier and less stressed, and fewer animals in the colony means less competition for food, said Currigan, who's Tree House board president. Neutered feral cats tend to gain weight, and they live longer – especially if they reside in a managed colony.
"Population control is so critical," Currigan said. "There simply are not enough resources for all the kittens/cats produced when these feral colonies continue to proliferate."
The organization is asking the public's help in trapping cats and transporting them to its low-cost spay/neuter clinic at 1629 N. Ashland Ave. Then, depending on their age and if they're friendly or non-friendly, they will either be released back to their original site once they have recovered from surgery or be put up for adoption.
"This is not going to make the problem necessarily go away completely," said Schlueter. "But the population will decrease gradually and safely."
She said the months of April and May are kitten season, and Tree House is starting to be inundated with calls. Cats have two to three litters a year, Schlueter said, and hopefully, those future ones will be prevented. Currently, the organization is dealing with the first litters of the year, and kitties like Austin, who have already been born.
"This is why it's so important to do this now," she said.
Residents of 60651 may call the Tree House BDVM Mac Lean Clinic at (773) 227-5535 to make an appointment for a free spay/neuter/vaccination package.
For those wanting to help, contact Kari Johnson at Tree House Humane Society at (773) 784-5488 ext. 234 or e-mail Kari@treehouseanimals.org.