Representatives from several local churches returned earlier this month from Alabama, where they traveled to offer support and bring supplies in the wake of deadly storms that left scores dead.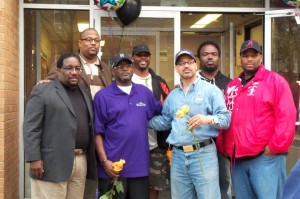 The mission – Operation Hope for Alabama – included members of the LEADERS Network, a collaboration of local churches dedicated to providing community support. A delegation of 25, including Revs. Bernard Lilly, Cornelius Parks, Ira Acree, Marshall Hatch and Robbie Wilkerson, traveled to Alabama by bus.
The group provided resources and offered pastoral care in Tuscaloosa and Birmingham, Ala.
"We took 20 young people from the West Side of Chicago on this mission trip. From everything we saw, reconstruction is going to take a very long time. We hope that Chicagoans will commit to this work for the long haul," said Wilkerson of New Birth Christian Center, who has family who live in Alabama. "Many people's homes were not affected, but their electricity was affected. We delivered and helped those who were not able to get food."
Wilkerson told the Austin Weekly News that Pratt City reminded him of Austin: "It is a predominantly black community and has a business district extending down its main street. Imagine if North Avenue to Lake and Cicero to Austin were devastated by a tornado. It would be a tremendous loss for the Austin community. Pratt is facing that fate right now."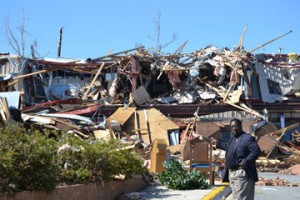 It was hard seeing the damage up close.
"The devastation is much worse than it even appears on television," said Hatch of New Mount Pilgrim Missionary Baptist Church. "We are very concerned about the people being left behind in the very poorest sections of Pratt City, Ala. We're going to focus our relief efforts on people who need help the most."
Acree of Greater St. John Bible Church agreed: "We as a community have to step up and make sure we use our voice, our presence and our influence to make sure our loved ones in places like Alabama and Mississippi get the proper attention after an incident like this."
Besides bringing clothes, toiletries and water, the group gave encouragement and moral support, too.
"Many of the spiritual leaders down there were devastated as well," Wilkerson said. "A lot of our spiritual leaders from Austin prayed with the victims and their families. We let them know that we were there for them.
"Even though we have our own issues here and we need a lot of support in a lot of areas, it allows us to see that there are people that are worse off than us."
The LEADERS Network plans on doing similar relief efforts again.