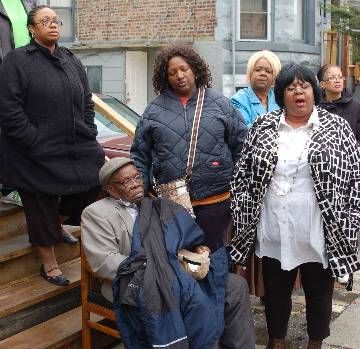 By Terry Dean
When Luelicious Yarbrough parked his car late the night of April 7 on the vacant lot in his West Side neighborhood, the 89-year-old retiree never expected that by morning it would be towed – especially since he's parked in that lot near Jackson Street and Kolmar Avenue for the last 18 years.
Yarbrough's 1996 Ford Windstar van was towed that next morning, along with seven other vehicles parked in the same lot belonging to neighbors living in the 4600 block of West Jackson Street. The vehicle belonging to Sandra Rowe, a community volunteer beat facilitator in the neighborhood, was also towed by the private company hired by the city.
Rowe said she asked the tow truck drivers why the cars were being removed and was told that a complaint was made. Police were also on the scene to prevent neighbors from moving or retrieving items from their cars, Rowe said.
Some of the residents blame outgoing Ald. Sharon Dixon, saying the towing is retaliation against some on the block who supported Dixon's opponent, Michael Chandler.
A former 24th Ward alderman himself, Chandler defeated Dixon in Tuesday's run-off election to win the seat he lost four years ago.
Austin Weekly News called Dixon's West Side office April 8th to get her comment, but the office was closed.
To read the rest of the story, click here.