Nikita Adams formed The Strawberry Girls four years ago after her daughter was harassed at school.
"She got jumped on one time, and it was very distressing," said Adams. "She said, 'Mommy what should I do?' And I was kind of stuck. I told her to write, and (now) she has a story called 'The Bully Would Not Leave.'"
Adams gave her daughter an outlet to express herself.
That's the idea behind Cricket's Community Voices grant program, which has awarded up to $2,000 to Chicago projects aimed at creating positive change in their communities. The wireless phone company's pilot program has invested $80,000 for the next year.
In this first of four rounds, three of the 10 recipients were from Austin: The Strawberry Girls, Essie Little Folks Daycare and Because I Care Inc.
"When we got down to the final 10, it was very emotional," said Rene Parson, Cricket's Chicago area general manager. "It was almost at some times even tear jerking just because of the stories."
Parson was on the panel of five that considered 76 applications, many of which came from the Austin community, she said. Now, with checks in hand, the projects will have six months to show positive results in their communities.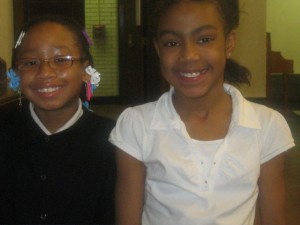 The Strawberry Girls have already begun its project, "Letters to the President." It extends the group's purpose, which is to provide self-esteem and self-worth workshops in Austin schools, said Adams.
And now, with self-empowerment in mind and a grant from Cricket in hand, the group has asked Austin students to write letters to President Obama addressing profanity and leadership in schools. The idea is to let kids be the voice of their community, she said.
"Children are strong leaders. I wanted their voice to get out there. The president needs help," she said.
Austin's Ella Flag Young School has already sent 42 letters. The Strawberry Girls also has held an essay contest asking students to answer this question: "How can I be an example of positive leadership in my community?" The Cricket grant paid for prizes for participants that ranged from gift cards to netbooks.
"It was beautiful," Adams said.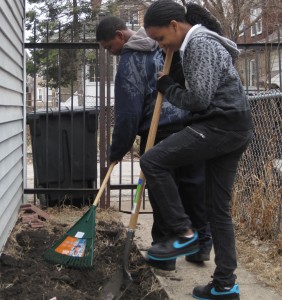 Also receiving a grant was Essie Little Folks Daycare for its project "Go Green." It's an effort to deter neighborhood youth from violence on the streets by helping them develop skills they can bring home, said Al Taylor, the project's leader.
"You don't have to do what your peers are doing," said Taylor. "This is something that you can do in your spare time."
His project includes gathering kids in the neighborhood to help plant a garden in the day care's backyard located at 4900 block of West Kamerling Avenue. Success from a similar project last year encouraged Taylor to do it again, he said. Last year, they planted flowers, this year it's all vegetables.
"We're going to teach children how to be industrious with their hands," said Taylor.
In the backyard of the day care, a row of new soil was recently laid with packets of tomato and carrot seeds resting next to new rakes and shovels. Three neighborhood kids invited to participate talked about how they became involved.
Jerveis Posey was in a candy store last year when Taylor's mother, Essie, asked him to join.
"I just wanted to help her out and help the community out as well," he said.
Jerveis said he doesn't consider his neighborhood violent, and Taylor agrees. But Taylor said the negative influence of some older kids and adults has the potential to rub off on neighborhood kids; a good time to recruit for the project is during school breaks.
"That's a good time to move in and grab them – when they say, 'Look I don't have really anything to do,'" said Taylor.
He plans to finish planting the garden in April. "That's around the time that it's starting to blossom," he said, adding there will be an end-of-the-project pizza party.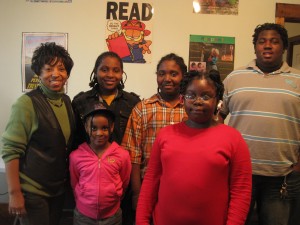 Because I Care Inc. has also begun using its grant. The youth tutor and mentor organization located on Chicago Avenue bought 10 computers for its project geared at improving computer literacy.
"We want to teach them how to do Word documents, how to do resumes, things like that at an early age, so they know how to do it once they get to 18 and they have to go get a job," said Patrick Rogers, program director for Because I Care.
The organization has seven students working in its current session; Rogers wants to increase that number to 25 in the next session, which starts the second week of April. Students can still sign up by calling Because I Care at 773-261-0555.
The program has partnered with DePaul University, which provides one mentor for every child, said Margaret Spearman, executive director of Because I Care. Each mentor comes in one day a week to help tutor the group. Often, the students form attachments to the mentors, said Spearman.
Eleven-year-old Pierre Veal smiled and said Tuesday is his favorite day of the week. That's when Justina comes in. For 11-year-old Garrett Adams, it's Fabiana on Mondays.
"He (Garrett) really likes to go to school and tell people about his mentor. He's boasting about it, and that's what should be happening," said Spearman.
This last session, the program turned away 20 volunteers from DePaul because there wasn't enough money, said Rogers, who spends hours researching various grants the organization can apply for.
Since its inception in March 2010, the program has consistently had about seven students at a time, he said. Now, donations and other funds have enabled the group to help more students.
Spearman said she hopes to get the attention of local politicians with a new space she and her husband James just opened. It's called Genesis and downstairs from Because I Care. She hopes it will become a place where neighborhood youth can congregate safely in the community – a place where they can belong.
Outside on the street, Spearman looked up and down Chicago Avenue envisioning the neighborhood's future. She talked about the change she'd like to see and imagines a block party like other neighborhoods have in the summer. She's optimistic but knows it will take time.
For now, she's trying to coalesce around her community. When she says hello to people on the street, Spearman says they seem startled that someone is talking to them. She wants to change that.