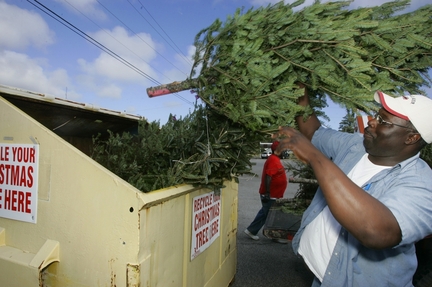 Trees should be dropped off inside of the tree corrals set up at 23 locations sponsored by the Chicago Department of Streets & Sanitation,  the Chicago Park District and the Chicago Department of Environment.
"Last year, residents brought in 11,513 Christmas trees to be mulched. We have mulched and kept 128,778 trees out of the waste stream since 1990, so this program can have a very real impact on the environment," Mayor Richard M. Daley said in a statement.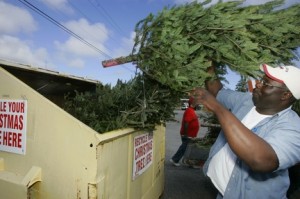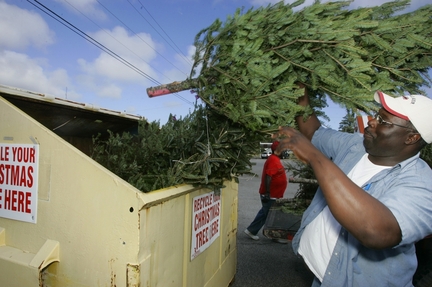 Crews will not be on hand, and because these sites are unmanned, on-the-spot mulching will not take place. However, a limited amount of bagged mulch will be available at sites after Jan. 7.
Before dropping off your tree, make sure to remove all decorations, including lights, ornaments and tinsel. Not only would those items ruin the purity of the mulch that can be used as a ground cover on city landscaping projects or in residents' back yards, but it can also damage the city's equipment.
This year's participating sites:
Bessemer Park: 8930 S. Muskegon Ave.
Clark Park: 3400 N. Rockwell Ave.
Forestry Site: 900 E. 103rd St.
Garfield Park: 100 N. Central Park Ave.
Grant Park: 900 S. Columbus Drive.
Humboldt Park Boathouse: 1369 N. Sacramento Blvd.
Jackson Park: 6300 S. Cornell Ave.
Kennedy Park: 11320 S. Western Ave.
Kelvyn Park: 4438 W. Wrightwood Ave.
Lake Meadows Park: 3117 S. Rhodes Ave.
Lincoln Park: Cannon Dr. at Fullerton Ave., parking lot east of Cannon Drive.
Margate Park: 4921 N. Marine Drive.
Marquette Park: 6700 S. Kedzie Ave.
McKinley Park: 2210 W. Pershing Road.
Mt. Greenwood Park: 3721 W. 111th St.
North Park Village: 5801 N. Pulaski Road.
Norwood Park: 5801 N. Natoma Ave.
Portage Park: 4100 N. Long Ave.
Riis Park: 6100 W. Fullerton Ave.
Rowan Park: 11546 S. Ave L
Sheridan Park: 910 S. Aberdeen St.
Warren Park: 6601 N. Western Ave.
Wentworth Park: 5625 S. Mobile Ave.