The Austin community celebrated the Holiday Magic festival earlier this month. The sixth annual even took place in Austin Town Hall, 5610 W. Lake St., Dec. 16.
Over the last three years, Holiday Magic averaged between 40 to 50 guests. But this year, 200 to 300 people attended, said town hall staff member Tebrena Howard.
"We have done more distribution this year," says Howard. "We've put up more flyers for promotion."
During the three-hour event, guests enjoyed a live theatrical performance in the auditorium. Children lined up to early to get their pictures taken with Santa. On the town hall's second floor, children did arts and crafts, and face painting, too.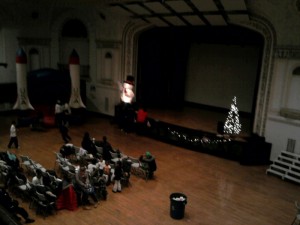 Austin Town Hall's Recreation Leader Andrewnette Daniels said Holiday Magic is a great way to bring people together and give them something to do.
"It gives the people something to do without having to travel far," says Daniels. "Many people don't have access to transportation, so this is something they can do that is close in their community."