Usually, when classes are over, high school students want to hang out with their friends or go home and relax after a long day at school. The kids in the Learn to Swim program, part of the After School Matters program started by Chicago First Lady Maggie Daley, get in the pool.
Austin students, ranging from 14 to 18 years old, signed up this fall for the 10-week program to boost their swimming skills. With the help of the natatorium instructor Douglas Willis and two lifeguards at the Austin Town Hall, the swimmers – some learning for the first time – have come far; their last day of swim class is Dec. 9.
"We teach the kids to swim, and we try to make them more proficient in swimming so that they can be able to go into the next step of the program," said Willis.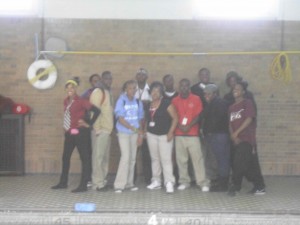 The next stage is the Apprenticeship Program, where the students from the Austin campus learn life-guarding skills and can become certified as lifeguards.
But first many of the students have to learn the fundamentals of swimming. That's especially important in Austin and other African-American communities, where the rate of drowning is higher among minorities than whites. In fact, black children are more than three times as likely to drown than white children, one recent study found.
"I doubt that that's why the program exists, but the program is important because we want to reduce the amount of drowning no matter what the race or ethnicity is," said Willis.
Though the program is designed to help students learn how to swim, the lifeguards also see another advantage of the program.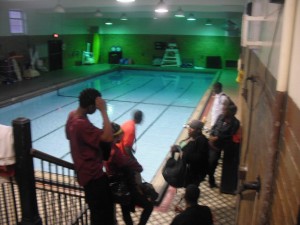 "They're getting a good workout, learning teamwork and building character versus being on the streets," said lifeguard Marcin Siembab.
The swimmers agree.
"You learn professionalism, learn how to work with other people, and you learn a lot of teamwork," said 16-year-old Torres Hughes, a three-term veteran of the Learn to Swim program.
Torres, along with some of his friends, gather at the Austin Town Hall, 5610 W. Lake St., three times a week for their hour-long lessons. They also receive a stipend from After School Matters. Students must maintain good grades and school attendance, plus be interviewed, to be accepted.
"When I first came, I didn't swim at all, and now I know way better now then when I first came," said 14-year-old William Davis. "I want to stay here until I graduate from high school."
austintalks.org@gmail.com