By Cody McSellers-McCray of Westside Health Authority
As stores fill with pink products to celebrate National Breast Cancer Awareness Month, this is a good time to make meaningful choices about how to best fight the disease.
When your life has been touched by breast cancer – either your own diagnosis or that of someone you care about – it's hard to sit on the sidelines in the fight against the disease. You're motivated to do something, anything, to help. To reach out and give back. To share what you've learned and help guide someone else. To raise awareness. To change the status quo. To make a difference.
Here are some ways you can take action: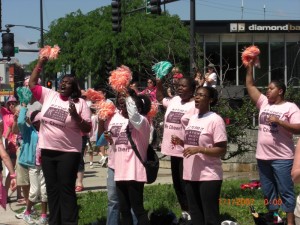 1. Walk/run to save our sistas: Through out the year there are numerous walks (Avon Walk, Susan G. Komen and Network of Strength) that raise millions.
2. Get a mammogram: Women age 40 and older should have a mammogram every year. Programs to link you to mammography providers can be found by visiting www.avonbreastcare.org or http://www.komenchicago.org/. Don't skip your mammogram this year. Westside Health Authority's breast health program is offering free mammograms and clinical breast exams to women 40 and over who are uninsured or underinsured.
3. Get a clinical exam: Women in their 20s and 30s should have a clinical breast exam (CBE) as part of their regular health exam every three years. Community-based groups that can help link you to a CBE can be found at http://www.chicagobreastcancer.org/.
4. Throw a sista party: Unlike your standard outreach events, these are held at your home, church or wherever your friends and family gather, and they feature a fun activity, such as "bra therapy" (a time to learn about proper bra sizing and fitting).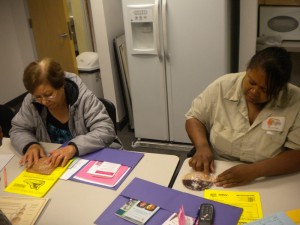 5. Attend workshops: Breast Health 1010 is a one-hour educational workshop created for women over 40 on Chicago's West Side who are interested in understanding what their lifetime risk of breast cancer is and what steps they can take today to be proactive about their health. On Oct. 23 from 9 a.m. to 12:30 p.m., there will be a free breast cancer awareness community forum at United Baptist Church, 4242 W. Roosevelt Road. Breakfast is included, and transportation is available. To register, call 773-257-2685.
6. Be an advocate: Help influence breast cancer legislation in Illinois. The Metropolitan Chicago Breast Cancer Task Force can provide the tools to take action.
7. Be a pink ambassador: Volunteer locally in the community. As a pink ambassador, you can help in a number of ways, including promoting the importance of early detection and encouraging faith-based organizations to talk about the importance of breast cancer screening.
8. Know your body: Experts recommend that women watch for any changes in their own bodies. Breast self exam is an option for women starting in their 20s. 
For more detailed recommendations, visit the American Cancer Society Web site.

For more information about free services or too get involved, call Odette Alleyne at Westside Health Authority at 773-786-0249.
McSellers-McCray is director of health promotions at Westside Health Authority.