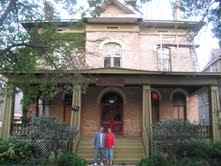 An Austin home built in 1869 is one of Chicago's oldest and most decorated houses, yet it doesn't have landmark protection status from the city of Chicago that would protect it from being demolished or defaced.
The Seth Warner house at 631 N. Central Ave. became a National Landmark in 1981, but Chicago officials have not put it on the city's list. The three-story, Victorian-style house was one of several historic structures recently highlighted by Chicago Tribune reporter Blair Kamen.
The 7,500-square-foot house was built for and by a prominent blacksmith named Seth Warner, and at one point housed the Austin Academy of Music, which taught thousands of students, said James Bowers, who's lived in the home for 25 years.
"My wife and I had to remodel the kitchen and roof because the house had 80 years of neglect before us," said Bowers.
Jim Peters, president and executive director of Landmarks Illinois, said the city's landmark designation program is often aimed at buildings and houses that are threatened. Since the Seth Warner House has not been in danger, it's not been granted landmark status.
"The easiest way to be considered for Chicago landmark status is for the owner and/or alderman to request it," said Peters. "If that is not possible, then a member of the public could make a formal request of the Commission on Chicago Landmarks for this matter to be pursued. At least twice a year, the commission invites these requests at public meetings."
Even if the house did get protection status from the city, Bowers said it wouldn't stop the politicians from doing what they want with it. In the previous years, he has had some issues with the city inspector and police officers.
"I have a hard time trusting the political structure in Chicago," said Bowers.
Though the house may not be torn down anytime soon thanks to Bowers and his wife, the landmark protection status would prevent future owners from tearing it down.
Bowers and his wife, Cynthia Weaver, remodeled the house to its original form after the house went through many transitions. They still are not finished, and Bowers predicts they never will be. They are working on preserving the importance and originality as much as possible.
"The house seems to have its own fame because we periodically have people ask us about the house and shoot photos of it," said Weaver.
Bowers and Weaver said they moved to the neighborhood in the 1980s to "break down racial barriers," among other reasons. The couple regularly attends CAPS meetings.
"I had to make 10,000 phone calls to get rid of the crack house next door, but now I walk around the neighborhood without fear," said Bowers.
austintalks.org@gmail.com