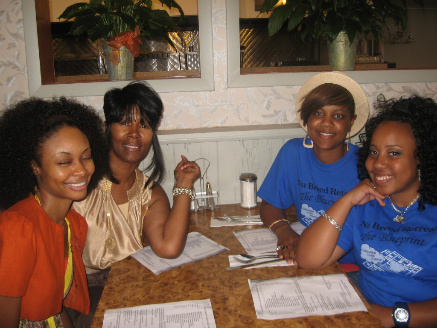 Alice's, a 27-year-old soul food eatery, might seem small and modest from the outside of 5638 W. Chicago Ave. But that doesn't stop old and new customers from flocking there every day for a delicious meal made with the heart and soul of owner Alice Carter.
"It's very much soul food," said Ashley Beasley, 26, as she browsed the menu recently with her mother and two friends. "You can tell that they put their heart into it."
After taking three months to renovate the formerly foreclosed building, Carter, 74, reopened in April at the same location where she ran her restaurant from 1988 to 2004. Then Alice's moved to Division and Pine between 2004 and 2009. Now, Alice's is busier than ever, attracting "a couple of thousand" customers on Saturdays and Sundays, too, from all over the Chicago area.
On Sunday, Alice's busiest day, customers are greeted and escorted to the dining room. A few regulars sit in the front area and joke with the waiters and cooks.
Mouthwatering aromas hang in the air as dishes of sweet potatoes, baked chicken, and macaroni and cheese are shuffled about. Alice smiles and revels in the environment she's created over the last few decades.
Creating this environment comes at no small cost, however. Every morning, Carter wakes up at 6 a.m. to prepare food that lasts from when the restaurant opens at 6:30 a.m. until it closes at 8 p.m. During the day, she alternates between the kitchen and the dining area to ensure the food is presentable and the customers are happy.
"I don't care if someone doesn't want anything but a glass of water or change for $10," Carter said. "That's a potential customer because if you extend him that service with a smile, he'll be back."
This seems to be true for much of Carter's customer base. Many of her customers have been following her and her cooking before she even opened the first Alice's back in 1983 at Parkside and Madison.
Ray Lake met Carter when she worked at another restaurant in 1967 and has been watching her culinary success every since. He most enjoys the food, the clean atmosphere and the fast service, he says. After many years, Alice's remains his first and only choice for soul food in Austin.
Other Austin restaurants "use canned food, and she makes her beans and greens from scratch," he said, using his fork to point at his full plate. "She takes this corn off the cob and cooks it."
Carter has been cooking up a storm ever since her childhood days in Mississippi, where she learned "down home cooking," said Glenn Carter, the youngest of her four sons and the manager of Alice's.
Growing up, Carter ate his mother's home-cooked meals every night, his favorite being spaghetti and meatballs.
In 1961, Alice decided to share her gift with the community, opening her first restaurant, LNG Grill, on Damen and Madison on the Near West Side without any professional training in business or culinary art.
"She just knew," said Glenn Carter. "She had a definite instinct about it."
As a teenager in her hometown of Jackson, Miss., she was fascinated by watching cooks prepare large amounts of food at one time.
Carter left Jackson for Chicago soon after and opened her first of five restaurants, which operated between 1961 to 1972. She then opened another restaurant for a little over two years on Kildare and Madison. She worked for the CTA until 1989, but she kept on cooking by doing some catering and opened the first Alice's back in 1983.
"I've always been a worker," she said. "I was never a partygoer, I never abused myself."
In 1988, her current location on Chicago Avenue became available, and Carter opened another Alice's, leaving the older location to her eldest daughter, Jacquelyn Carter. Her daughter had trouble maintaining the older location, so Carter eventually closed it in 1996.
Carter remained at her current location for 16 years until 2004 when she tried to buy the property. She ran into several complications with the landlord and eventually moved the restaurant to Division and Pine streets in a smaller, less well-equipped building.
Carter wasn't happy with the new location, so earlier this year when her accountant offered her a chance to return to Chicago Avenue, she grabbed it.
"He walked in and said, 'How would you like to go back home?'" she said.
Though her business has been through some hard times, that hasn't affected the warmth and kindness Carter shows to her guests, said longtime customer-turned-friend Alex Beverly Jr.
"Without her, there would be a lot of hungry people," he said. "She'll let you eat for free and all that kind of stuff. She never says no. She doesn't have no in her vocabulary."
Carter has known Beverly since he first moved to Austin as a struggling young man. She has helped many others since then.
"If you come to Alice's for dinner, I want to make sure that there's something you can afford," Carter said. "And if you choose something that you can't afford, I'll pick up the difference because it doesn't bother me."
Though Carter has received several offers to open a second restaurant, she said it's rare to find people willing to put in the work to keep a business running.
"I always try to follow the answer that God has sent me. That's my way of knowing."
austintalks.org@gmail.com