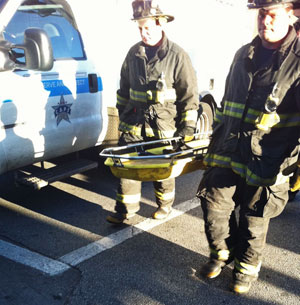 By Terry Dean of the Austin Weekly News
The scene at Central Avenue and Lake Street at the CTA's Green Line station Monday evening turned chaotic and tragic when a man was killed after apparently jumping in front of an oncoming train.
The incident happened about 6:15 p.m. The unidentified white male was in his 50s, Chicago police said. Police consider it a death investigation and not a suicide at this time. Police said the case remains under investigation and could be reclassified.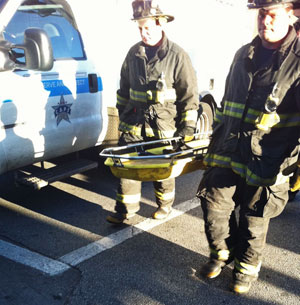 A witness at the scene said the person just jumped in front of the train heading westbound to Harlem. An eastbound train heading downtown had also stopped at the Central station at the time of the incident
Electricity was immediately shut off on all tracks. Passengers exited both trains, and one witness on the westbound train said passengers felt it collide with the man. Police vehicles and fire trucks soon engulfed the area, and passengers were evacuated from the station.
Dozens of passengers from at least one other Green Line train were advised to get off at the Pulaski station, and many of the riders walked west on Lake Avenue, while others called friends and family to pick them up.
Electricity was restored to the eastbound tracks about an hour after the incident with trains in both directions using that single rail.