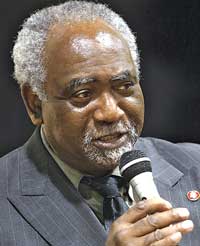 Elias Valencia didn't know it when the rain started, but the storm that hit Chicago July 23 would cost him dearly. It would be so expensive in fact, that he, like thousands of other residents, are looking to the federal government for help.
At some point during the heavy rains, sewage started backing up into the first floor of Valencia's Leamington Avenue home. By the storm's end, sludgy water sat two feet deep in his children's playroom, his floors had buckled, and everything from the new kitchen cabinets to his big-screen TV was  waterlogged and useless.
The damages to his home could top $20,000, Valencia estimates – and to make matters worse, he's now worried that his family is inhaling dangerous mold spores.
"People are telling me, 'This doesn't look like an apartment now,'" said Valencia, 32. "It looks like a dungeon right now."
Valencia was one of about 100 residents who braved stifling heat at the Austin Town Hall Monday night for a chance to voice these concerns and others to U .S. Rep. Danny Davis (7th). Topics covered at the meeting included joblessness, prisoner re-entry and the future of the Social Security system – but it was clear that many residents' top priority is the foul-smelling wreckage that has plagued their homes the past two weeks.
"It didn't rain 40 days and 40 nights," David told the crowd. "But it did rain all day and all night … and that was enough for most of it."
But a bit of good news: Help may be on the way, the congressman and a line-up of speakers from federal and state agencies said. That help has come in the form of federal and state inspectors who may be able to reimburse residents for the damage.
Four teams of workers from the Federal Emergency Management Agency, the Illinois Emergency Management Agency and other agencies are going door-to-door in Cook and DuPage counties this week, inspecting the homes hit hardest by the flood.
"There are thousands and thousands of homes that have been impacted," said Dave Smith, a disaster relief agency from the Illinois Emergency Management Agency.
Once inspectors know the scope of the damage, state officials will appeal to President Barack Obama to declare a federal emergency, Smith said. That declaration would free up federal money that could reimburse residents for the damage – but it's unclear how long that process will take.
That uncertainty was clearly frustrating to some people in the crowd.
"I have confidence that Barack Obama is going to do the right thing," Davis told the audience over the hum of two large fans. "We're going to get relief. It's just going to take a little bit of time."
"But what if we don't have time?" shouted one exasperated woman.
"The mold is coming up through the vents," another woman said. "It's just me and (my elderly father), and we can't clean it."
Davis and members of several community groups urged the community to assist their neighbors and to reach out too charity and faith-based groups for help.
Smith said he understands people's frustrations – especially in dealing with the something as unpleasant as sewage in your home.
"It doesn't take much of that to make life miserable," he said.
City of Chicago medical director Cort Lohff warned the audience to beware health effects of standing water – particularly mold, which could be growing under carpets, under wallpaper and in appliances, and can cause allergy symptoms like coughing and sneezing.
"Just because you can't see it or smell it, does not mean the mold is not there," Lohff said.
All questionable items should be scrubbed with soapy water and wiped down with a bleach solution; if you can't dry something out properly, Lohff said, throw it away.
If federal funds are made available, any resident can apply – regardless of whether they had their home inspected or if they reported the damage after the storm, Smith said.
Staff working for Congressman Danny Davis can help find safe housing for residents displaced by the storm or living in unsafe conditions; call his office at 773-533-7520 for assistance. Also, the Westside Health Authority has assembled a group of young men to help residents clean up wreckage from the storm; call 773-622-8477 for more information.