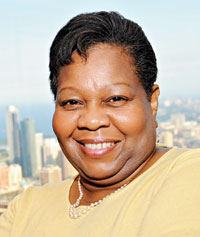 By Terry Dean of the Austin Weekly News
Grandparents living in the south and west suburbs who have taken on the task of raising their children's kids now have a new support group to lean on. Grandfamilies Program of Chicago is expanding its support group network to those communities.
The 7-year-old, nonprofit program helps grandparents attain services including housing and counseling. Grandfamilies will launch its suburban support groups this month through a new program- Empowering Grandparents Raising Grandkids.
These monthly support group meetings will have a "structured curriculum" for parents, said Linette Kinchen, the organization's founder. The new program will also see support groups formed in downtown Chicago at Harold Washington College and at Rush Medical Center on the West Side.
Kinchen said grandparents living in the suburbs have been increasingly looking to her organization for help in recent years.
A grandmother herself, Kinchen said her organization helps people citywide. She started the program, currently headquartered on Chicago's South Side, in 2003, shortly after taking on the responsibility of raising her own grandchildren. She was also laid off from her job about that time.
"I didn't find resources that I needed as a grandparent," Kinchen said.
She found that other grandparents in a similar situation also needed help, mainly trying to find housing for their growing family.
Kinchen, the organization's executive director, says her program is a "self-help" group. It offers education and training, referrals to counseling and advocacy, among other services, to grandparents. The suburban expansion is co-funded by The Chicago Community Trust (which also funds AustinTalks) and the National Council on Aging.
Groups in the area will be led by grandparents who live in those communities.
Family circumstances forcing grandparents to step in as guardians include abandonment, a parent's death or the incarceration of a parent, said Ava Williamson, the organization's director of communication.
According to Census data compiled by the organization, the United States has more than 2 million children living in grandparent-led households. More than 200,000 children under 18 old live with their grandparents in Illinois. In Chicago, it's more than 41,000.
Grandparents are also becoming younger, Williamson said.
A recent Grandfamilies client is a 39-year-old grandparent raising her 5-month-old grandchild. Whether young or older, Williamson said the grandparents don't always know what help they need or where to go to get it. Issues involving securing guardianship or finding housing, she adds, can be stressful, and sometimes grandparents can feel alone.
"They don't have that peer network of who's been there before; their peers aren't going through the same thing," Williamson said.
She adds that their clients find the support groups most beneficial. The organization is currently looking for volunteers and clients for the new support groups.