The minute you walk into the two-story building at 4407 W. Madison St., hundreds of thousands of records surround you from the floor to the ceiling.  You have entered West Garfield Park's Out of the Past Records. Since 1986, owners Marie and Charlie Henderson have been amassing one of the area's largest collections of records.
But their music history goes much deeper.
The couple got their start at 8 S. Pulaski Road in 1964 running their own photography studio where they took family portraits and visited the many West Side music lounges of the time taking Polaroid's of patrons and selling them for $3.
Business changed for the couple in 1969.
"A friend of mine suggested we sell records along with the photographs," said Charlie Henderson. "We went to a distributor, Barney's Records on Roosevelt Road, and we bought 50 copies of  Color Him Father' by the Winstons, a Washington, D.C., vocal soul group that hit the Billboard with the tune.
"We must have sold 200 records in one week," added his wife. "The record was so popular then that we couldn't keep enough of them in the store. From there, we just kept on going and adding more to the record shop."
During the riots after Martin Luther King's assassination, much of Madison Street burned, including the Henderson's photo and record store.  In 1970, they opened a new store – Henderson's – at 4052 W. Madison St., now selling only records.
The Chicago music scene at the time was "jumpin,'" said Marie Henderson.
"Everybody was into the music. The Winstons, The O'Jays, The Jacksons, the blues …  Muddy Waters, Albert King, B.B. King, Little Milton, Howlin' Wolf, John Lee Hooker, Memphis Slim.  We have always been into the blues because blues was a major thing in that era, too.  All the Motown sounds, [the] Philadelphia sounds, the Detroit sounds, then in the '70s you had disco."
Starting in 1970, the couple would also sell records every Sunday at the Maxwell Street flea market, something Charlie Henderson continues to this day.
As time went on, the Hendersons expanded the number of stores carrying their name in Chicago.  A new store was added at 3948 W. Madison St.
"At one time, we had about 10 stores scattered across the South Side and the North Side," said Charlie Henderson. "But that didn't last long because when you branch out like that, you don't have control. We had to give that up."
The couple fondly remember their customers from the 60s and 70s.
"We would have the neighborhood crowd that would come in without fail every weekend," said Charlie Henderson.  "They would buy like 20 45s and three or four LPs every weekend and go back home and party. You'd see the same people every weekend come to get the new releases just like clockwork. The shop would be crowded on Fridays and Saturdays, especially."
Then on July 7, 1977, both Madison locations caught fire.  The 4052 W. Madison location was abandoned, but the Hendersons maintained the 3948 W. Madison storefront.
By the mid-80s, they had acquired so many records that a new store was planned to deal exclusively in older records and "dusties"- or "oldies"-era R&B and soul.
The building, which once housed a car dealership – complete with a car ramp to the basement – at 4407 W. Madison St., was large enough to accommodate the thousands of records, and Out of the Past Records was born.
In the mid-80s with the advent of the CD, record companies and distributors began selling off their unsold vinyl stock at much reduced prices.
"We have a large selection of older wax we bought when the record companies were just dumping LPs," said Charlie Henderson.  "In the 80s, we were buying them by the box. We tried to lay into the blues, like Muddy Waters and Howlin' Wolf, we tried to get as much of that as we could and a lot of the older groups like The Stylistics and groups like that."
Today, Out of the Past Records boasts about 10 rooms filled with records and a basement filled as well.
Store employee Ethan Powers estimates there are  "a million-plus" records.
"The Hendersons have a unique personality," he said.  "When they get into something, they really get into it."
The store can be a bit intimidating at first.
For one thing, most of the records are not organized, so be ready to spend some time looking around.  Ask to be given a tour, and the building opens even further in the back to reveal two more large rooms with industrial shelves packed with records.
Return to the front of the store, and another door takes you to the basement – again, a huge room with piles upon piles of LPs and 45s, many still sealed and unplayed.
The basement is an experience in itself.
A flood in 1996 seriously damaged thousands of the records, but most were not thrown out.  A strong musty odor permeates and the floor is often moist; a Roto Rooter sits nearby. For those souls bold enough to dig around in the basement, Out of the Past Records offers latex gloves and face masks – just ask.
"I hate to tell you – I'm not an organized person," said Marie Henderson.  "But I always tell people, 'We call ourselves dusties; we have our gloves, we have our masks, so if you reckon, come spend the day with us.'"
For vinyl lovers, dusties fans and music junkies of all stripes, Out of the Past Records is an experience like no other.
As seven-year customer Chris Carnahan said, "It's a pretty legendary Chicago record spot.  I wouldn't say it's too much off the radar really, especially if you're kind of tied into the scene.  I'm sure I heard about it by word of mouth and headed down there one day."
Carnahan notes that there are numerous "Out of the Past specials," as he calls them – "records there that are pretty much indigenous to that store."
Many of these records are obscure Chicago soul and R&B groups from the late 60s to the mid 70s, including 45s by "the Soul Crusaders, the Chimes, Kings of Soul, a lot of the titles by the Star-Tels," Carnahan said. "They just have stock copies that are in unplayed condition.  Some of those things are just there and some of them are worth picking up."
Over the years, the Hendersons  have seen many of their older clientele disappear, with a newer younger crowd coming in, but plenty of older folks still frequent the store.
"I tell you, I have this crowd, and they don't love nothing but their dusties that you play on your big 33s," said Marie.  "I do sell eight-tracks, I have my little eight-track clientele, I've got my cassette clientele, I've got my 45 clientele.
"And a lot of them are foreign buyers from overseas.  They come in looking for hard to find music, and I have so much that I guess when they sell out they come and recoup what they need. They come from Germany, France, Australia, Holland, Korea, England and Canada."
Besides the music, Out of the Past Records is a meeting place for the West Side.  All day long people pop in to visit and say hello to Marie Henderson, who is seemingly always there.
It's a friendly atmosphere that has also been the scene of many celebrity visits, including such local soul and blues legends as Tyrone Davis, Ruby Andrews, Otis Rush, members of The Chi-Lites, The Sequins and The Notations, among others.
"I tell them when they get famous they forget me," said Marie Henderson.
"Marie is an institution," Powers chimes in.
The future for Out of the Past Records looks good.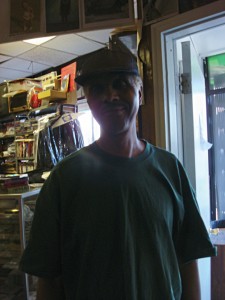 The Hendersons still have their namesake store as well at 3948 W. Madison St., where their son sells newer music and CDs.
"We don't hope to be millionaires" said Charlie Henderson. "[We] just hope to live comfortably, and I think we can do that.  It's something that we like doing.  We just hope that as time goes by, what we have will become more valuable and sustain us."
austintalks.org@gmail.com