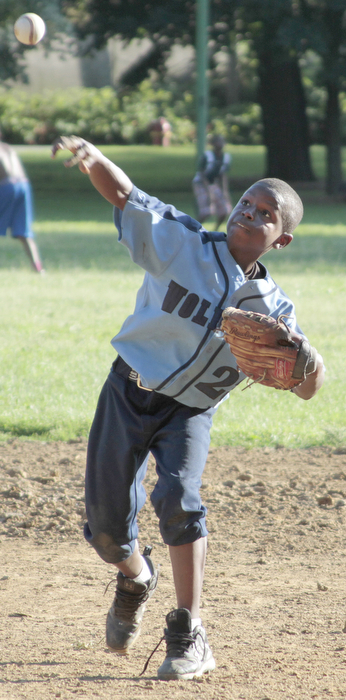 Cigarette butts, beer bottles and cans, fast-food wrappers and trash line many of the baseball fields in Austin, and some residents say the Chicago Parks District is striking out in maintaining fields at Levin Park, Amundsen Park, La Follette Park and Columbus Park.
Thomas Bowling, president of the Westside Youth League, said the bleachers are ripped to shreds, most fields have no dugouts and the coaching staff often arrives early to pick up trash before the kids arrive.
"We have asked the Park District to come out and straighten the diamonds up," he said.
"But there is an overall lack of concern. These are not true baseball fields. They are not lined with chalk like traditional fields, most don't have outfield fences and if they have dugouts, the benches are broken. The facilities on the West Side are in very poor shape."
Gregg Mason, park supervisor at Amundsen Park, disagrees. He said his fields are in great shape and his staff works hard to keep them that way.
"Nothing is wrong with my fields," he said. "We have between 70 to 90 youth that play on these fields, and honestly, mine are the best in the city on the Austin side. Other parks may have problems, but I don't because I keep my fields in shape."
But David Laxton, who coaches the Wolfpacks, a summer traveling team in its eighth year on the West Side, insists the Austin fields are sub-par, and Chicago Parks District and elected officials in the community are letting the kids down.
"These fields are a disgrace, they have trash on them and beer bottles. This is not an environment that you want your son or daughter playing in," he said. "The fields themselves are just a dirt diamond; they don't have dugouts, benches; they aren't chalked; they don't have bleachers; they are weed-covered; and there is just no upkeep."
Regina Hayes, communications manager for Chicago Park District's Central Region, which includes Austin parks, said landscape staff work hard to clean up the parks but cannot be on-site at all hours.
"Sometimes there are a couple hundred or thousand people at these parks, and our people work hard to get out and clean the parks first thing in the morning," she said. "It is the summer time there is an increased traffic at these parks because of the warm weather, but our landscape people are there at 6 a.m. every morning. Sometimes the parks' cleanliness is based on the time that you are at the park. . . . There are maintenance crews at the parks every morning, but we can't be there all the time."
Bowling, who also coaches one of the five Wolfpack baseball teams, said the poor conditions have forced his league's teams to play only road games.
"We shouldn't have to go outside of the community to play baseball everyday," he said. "It is difficult on the kids, and it's hard on their families who have to either leave work early, or sadly enough, not make it to the game at all to watch their son play."
Bowling said the only positive about playing in the suburbs is the boys get to play on a "real baseball field."
"You should see the look on these kids' faces when we get to other parks. They are stunned and elated to play baseball in stadiums and on perfectly manicured field," he said. "These fields have bright green grass and have just been mowed, the dirt is smooth and recently dragged with fresh white chalk lining the fields. The fields have dugouts with roofs, outfield fences and scoreboards."
He said there isn't a day that goes by that he doesn't get the question: "Coach, why can't we have fields like they do?" To which he answers, "I don't know."
Austin resident Dwayne Truss said it's not right that there isn't even one genuine baseball diamond on the West Side.
"This is an ongoing problem here, and the only way to get real results is to continue to push the Park District," said Truss, who officiates in the suburbs. "It's sad that the youth on the West Side don't have the opportunity to play on real ball diamonds. The Park District wouldn't get away with this in other, more affluent communities. That's why we need to stand up to them and force the issue.
"It's not just a totally different field, it is a totally different world for these kids playing in the suburbs," he said. "These kids haven't seen anything like that in their community, and it is sad. It is sad that the youth on the West Side don't have the same opportunities."
Truss said he doesn't blame only the Chicago Park District but also elected officials who he said aren't fighting for their communities and getting the job done.
Ald. Emma Mitts (37th) said the parks in Austin are generally in good shape and the Park District strives to maintain the "physical integrity of the parks."
Mitts said she encourages anyone with a specific Chicago Park District issue or request to contact her office at 773-745-2894. She said communication is key, and if she doesn't know about the problems, she can't address them.
"In addition, I am committing that my staff will increase their joint observation patrols of our local parks and baseball fields, working to monitor the status of areas where Chicagoans can freely relax, play and learn."
Ald. Deborah Graham (29th) and Ald. Ed Smith (28th) were unavailable for comment.
Laxton and others hope things improve for their West Side players.
"The Park District needs to put more emphasis on helping out these kids and giving them the opportunities they deserve," he said. "It is unfair how they treat these kids and this community. It's not right."
austintalks.org