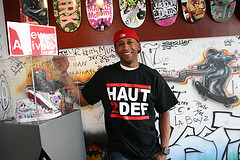 After nearly three years in business, Ulysses Scott is well aware of the challenges of opening a shop in Austin. As someone who was born and raised in the West Side community, Scott knows the positives – and negatives – Chicago's largest neighborhood has to offer.
Yet Scott chooses to pay no mind to the negatives and instead focuses on the good. He's invested both his money and his dreams on the business he opened in November 2007, Hau't (pronounced hot) Sneakers & Gear, a colorful boutique with graffiti and skateboard decks decorating its walls at 5360 W. Division St.
"I have to shop the North Side, South Side and Downtown, and I thought it would be nice to have a place to shop around here," said Scott, who keeps the store open seven days a week. "I hope the community will embrace me and encourage kids to come in the store."
Scott has filled his 1,200-square-foot store with "hot products kids don't normally have," like hipper, trendier, celeb-wearing shoes from companies such as Pastry. Prices start as low as $20 for a pair of Levi shoes and go up to $200 for the ever-popular Jordan's.
"We try to do the exotics," said Scott, who shops fashion shows in New York and at the Merchandise Mart, among other places. "It gives people the opportunity to have what other people don't have. You won't see all the kids wearing it.
"There was nothing like this store in the area," said Scott, who remodeled the store himself. It features brickwork, a cool-brushed metal Hau't sign, and staging for fashion shows and photo shoots.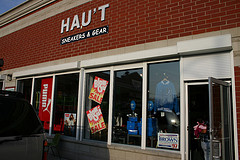 "Kids go outside the neighborhood to shop, they have to travel. There's nothing in the urban city where kids can buy quality clothes."
Garfield Park resident Arteshia Upchurch will back Scott up on that. When Upchurch, 17, noticed the "pretty shoe" in Hau't's window, she knew she had to stop in. Not long after, with her grandma's money in hand, Upchurch bought a sleek new pair of black suede Nike Corduroy Blazers.
"I'm fixin' to wear them today," said Upchurch, a student at Rauner College Prep in West Town.
Need a T-shirt, hoodie, some jeans or a backpack with built-in speakers and a spot to plug-in an iPod and cell phone? If so, head to Hau't.
"This is a wonderful store, an eye-catching store," said Upchurch. "I'm coming back."
Customers are hard to come by for everybody in this tough economy, but minorities are affected more than average, particularly African Americans and Hispanics, said Daryl Williams, director of research and policy for minority entrepreneurship at the Kauffman Foundation in Kansas City, Mo.
"These two groups are exasperated," said Williams. "They lack access to capital, access to markets … it's very difficult."
For Scott, no words have been truer. Since opening, he's maintained his business on a small budget, making it impossible to do anything but work long and hard, keeping him away from his family, particularly the "light of my life," his daughter, Kayli Simone, 6.
"You gotta do a lot of work when it's just you," said Scott, who attended Lewis Elementary in Austin, Schurz High School and Northern Illinois University. "I want to see my business grow. I want to see it progress."
There are nearly 65,000 African-American business owners in the greater Chicago area that generate $4.7 billion annually in sales and employ approximately 36,766 workers, said Lahne Mattas-Curry, a spokeswoman for Washington, D.C.-based Minority Business Development Agency.
The most recently released study by the agency says just 61 percent of African-American businesses survive four years, compared with 73 percent for non-minority firms.
Scott, 37, is just a little more than a year away from beating those odds. His biggest challenge, though, he said, has not just been staying open but dealing with "the neighborhood riff-raff kids." Yet when he has shoes that don't sell, he gives them away to many kids that are just that — riff raff. He also lets local artists display their talent occasionally.
"Austin needs a lot more people that care," said Scott, who modeled his clothes for the cover of the men's magazine, Vassar, in its November issue in exchange for free publicity. "We mentor the kids. When we see kids going on the wrong side of the tracks, we let them know there's a lot more than standing on the corner."
On Fridays, Scott lets the community's little kids come in and hangout and play X-Box.
"I just try and give them someplace they can come in and relax," said Scott, whose favorite place to eat in Austin is "my mama's house." "I don't run a day care, but maybe for an hour, it gives kids' parents a rest."
And although Scott could probably use a rest, too, from the long hours he puts in, he said he'll just keep doing what he's been doing, working hard to keep his vision going, his doors open, his lights on.
"Every day I fight to keep this dream alive."
austintalks.org@gmail.com