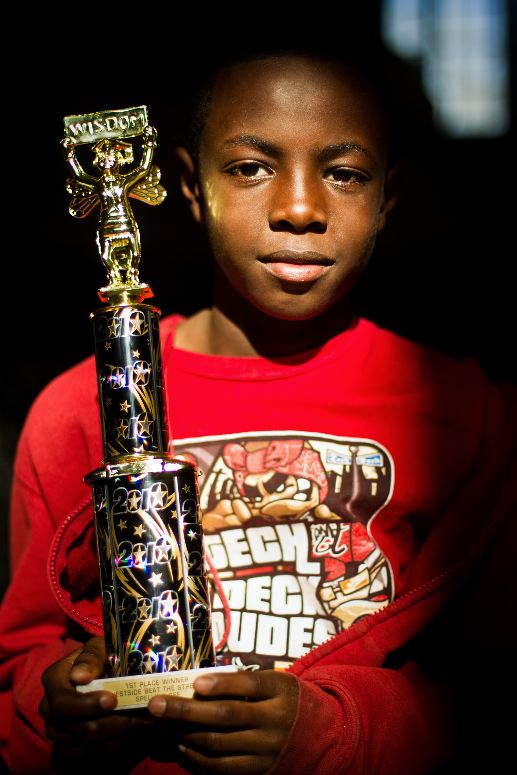 It's Saturday afternoon, and the Austin Town Hall is buzzing with excitement from the Westside Beat the Street Spelling Bee.
Ald. Ed Smith (28th) is in the house, as is Sen. Kimberly Lightford (D-14th). Both have come to check out the latest creative endeavor of Austin resident Danette King, and her husband, Brian, who as part of their organization Young Creative Minds put together the three-day event, which has the historic auditorium filled with about 50 kids and adults, and bunches of bright, yellow smiley-face balloons.
"I think Miss King is doing a phenomenal job and encouraging our youth through academics," said Sen. Lightford, there with her son, Isiah, and their friend Christian, both 8. "The smiley faces (balloons) brightened up our room, and I hope it brightens up our children."
About 35 kids from eight schools competed in the second annual spelling bee, held April 8-10. One winner who was definitely brightened up was Marteena Duckins, an 8-year-old, third-grader from Nash Elementary School, who won a trophy and $100 savings bond.
"Everybody was talking like I was a celebrity," said Duckins, who loves reading author Barbara Park's Junie B. Jones books. "Everybody wants my autograph."
Other winners, such as Otis Dawson, 10, from Tilton Elementary School, had a different reason to smile.
"I just did it to impress my grandma," said Dawson, a fourth grader who won a $200 savings bond for spelling "January" in a wild card round. "She said she was happy I was in it and hopes I can be in it next year."
The spelling bee was the brainchild of the teens at Young Creative Minds, a nonprofit organization run by and geared toward troubled kids ages 13 to 19. Founder Danette King said although the turnout was fairly substantial, she was disappointed because she sent packets to every school in Austin but very few responded and others were negative about the event.
"We need the schools to be more involved," said King. "We don't have a spelling bee like this in the community, and we need it."
King said she feels standards are "very low" in Austin, and kids are interested in sports and entertainment, "But not education in this community."
"This is not going to get them to college," said King. "We need schools and parents more involved. How can you expect kids to want more and set high goals?"
"These kids are representing their schools," she said. "Somebody should have been here."
Austin resident Bridgett McGill was happy to come. McGill volunteered as a judge last year and had so much fun she came back.
"We really need something like this to uplift our children," said McGill. "It's something more to talk about than just the bad things that happen."
An event like this benefits everyone, said Yev Kozachuk, a sponsor from Avalon Management, which hires the Young Creative Minds teens for landscaping, snow removal, and occasional clean up at about 15 of its buildings,
"This is a big testament to start the movement to give them educational tools," said Kozachuk. "It's a validation of their efforts and makes a world of difference."
Entertainer Blaze On and performer Shawn Banks are two young men also trying to make a difference in Austin.
The pair performed together, and apart, and had the crowd rocking.
"I love reaching out to the kids … and showing them that I came from their environment and this is what you can be," said Blaze On, a popular West Side performer.
"It's something for the kids that shows them motivation and dedication, and to be the best that they can be," said Banks.
It was a "marvelous" event, said Joie Pierce, a member of the American Women of Austin, a group focusing on education.
"It is just what the kids need and it's what we've been hoping for," said Pierce.
Other winners included: Kelsey Brooks from John Haig School; Terrell Starks, Nash Elementary; Sherron Parker, May Academy; Alexus Rattman, Lewis Elementary; Perriyona Clay, Spencer Technology Academy; Ny'eisha Gardner, May Academy; Lynda Lopez and Alfredo Alvarez, Prosser Career Academy.
Wild card winners: Maurvez Wilson, a fourth grader at Nash Elementary, won a laptop, and Mariah Williams, 14, won a $100 savings bond and a trophy.
To see more photos from last weekend's event, click here.
austintalks.org@gmail.com