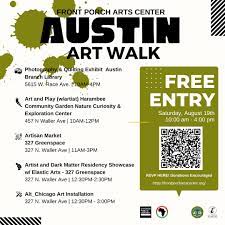 Front Porch Arts Center will host its first Austin art walk Saturday, starting at 10 a.m. at Harambee Community Garden with art and play.
From 11 a.m. to 12:30 p.m. there will be a film screening of "Westside Classic" and a discussion led by George Bailey at Austin Town Hall.
That will be followed with an artist talk from 12 to 12:30 p.m. with Jacqueline Doctor Johnson at Austin Branch Library, followed by a performance from the Alvin Ailey Dancers at Austin Town Hall.
"It's one of those days where we can feed everyone's soul with knowledge and art,"
Keli Stewart, founder of Front Porch Arts Center, said in a statement.
Throughout the day-long event, there will be a photo and quilt exhibition at the Austin Library,
from 10 a.m. to 6 p.m. There will also be an artisan market at 327 Greenspace
from 12:30 to 3 p.m.
"Art is a form that dates way back to our ancestors," Stewart said. "Art has the potential to bring our Black communities together and create a sense of belonging to those who are struggling on the West Side."
Front Porch Arts Center's mission is to support the creative economy through the arts by
providing essential resources, fostering partnerships, promoting West Side's artistic talents
and cultural assets.
"Our aim is to sustain and nurture emerging and established local talent including visual
artists, performing artists, writers and creatives. As an organization, we unify and
community build through the arts," Stewart said. "This summer we seek to raise art awareness among our Austin families and friends of the creative talents of artists living and working on the Westside."