The number of people shot this summer is down by almost 72% in Austin compared to last year, Chicago Police 15th District's Commander Andre Parham said at this month's 15th District faith-based meeting.
The number of people shot in the 15th District is down to 19 from 67, between May 30 and Aug. 2, according to police data shared by Parham.
Parham also said there have been fewer shooting incidents –instances where a shooting was reported, but there may have been multiple victims. This summer just 13 shooting incidents were reported between May 30 and Aug. 2, down from 48 shooting incidents last year.
"A reduction like that is not seen … it's nothing short of historic," the commander said. He thanked West Side faith leaders, adding "it's not the 15th District's success, it's all of us together."
Parham noted that this year's numbers are the lowest in eight years.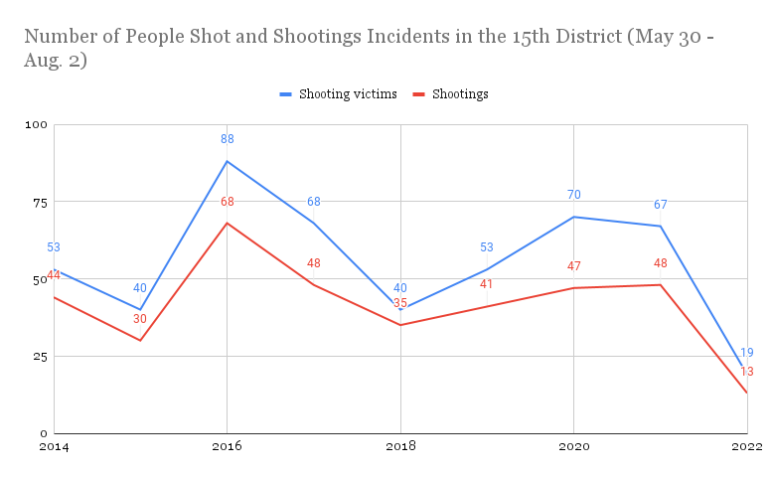 "I've been on [the Chicago Police Department for] 25 years, I've never even heard of anything like like this, especially for our higher-crime districts," Parham said in an interview later with AustinTalks.
Considering that crime hits its peak in the summer months an increase in crime, a drop in shootings by more than 50% is significant, especially for Austin residents.
It means fewer people were hurt and fewer people were impacted by the loss of a family member to gun violence, which has emotional, social and economic consequences. Everytown for Gun Safety reports that after losing a family member, survivors often face financial barriers, stigmatization and challenges accessing the services they need.
Last year, Austin ranked No. 1 among the 15 neighborhoods that experienced the most violence, according to Our City, Our Safety's violence reduction plan. In their analysis, the city of Chicago ranked the neighborhoods with the most violence by calculating the average number of serious victimizations – number of homicides and non-fatal shootings –for the period between 2018 and 2020.
This year, Austin is less violent, according to an analysis by the Chicago Sun-Times that compiles the current number of victimizations per 10,000 residents and compares it to last year's numbers. By this time last year, the average victimizations per 10,000 residents was 20.8, while this year it averages 12.5 victimizations.
This change is consistent with the drop in shootings and homicides citywide this summer, as reported by the Chicago Sun-Times earlier this month. Across the city, the Chicago Police Department reported the number of shooting victims in July fell 28% from last July, down to 447 from 595. However, not all neighborhoods have seen the same trends, as homicides have increased in the two districts that cover the downtown area.
Earlier this summer, experts from the Brennan Center for Justice warned against jumping to conclusions about recent crime trends, especially when considering that in the last two years crime had significantly increased in the United States.
In Austin, Commander Parham credits the 15th District's team and cooperation with community groups and elected officials for the "unprecedented" reduction in violence this summer.
In the interview with AustinTalks, the commander said Austin is a " very unique community" where the ties between community-based organizations are key. "Everybody has a motion into the game, we're all really pushing for success."
Organizations like The Institute for Nonviolence Chicago, Austin Coming Together, BUILD Chicago, Hope Community Church, Jehovah Jireh #1 Outreach Ministry and Westside Health Authority work cohesively with the 15th District's CAPS office to reach the community and prevent violence.
At this month's 15th District's faith-based meeting, faith leaders and officers who work together were enthusiastic about the drop in shootings and homicides.
Beyond the community policing strategy, the 15th District's police force has a strategy to prevent crime that is constantly updated based on information and input from community partners.
"We just try to develop a crystal ball … and try to stop things as much as we can before they happen," Parham said.
He said after returning from training at the FBI academy earlier this year, he was able to implement "fresh progressive ideas that have been very successful to this point."
Sgt. Edgar Brown said some of these ideas include holding job fairs at hot spots, an example of the CAPS office collaborating with local community groups that focuses on increasing residents' access to opportunities that deter them from engaging in criminal activities.
"We encourage people to think outside the box and think of solutions … and see what would work to help the community," Parham said. "I learned a long time ago, you cannot arrest your way out of these problems."
Despite the reduction in violent crime in Austin, other types of crime are up. For example, in July, the number of motor vehicle thefts increased by 110% and theft increased by 69%, according to police data.
Parham said the Chicago Police Department is working to reduce these crimes.
Part of the strategy includes cooperating with surrounding townships like Oak Park and Cicero to share information, identify trends and work together, he said. In addition, the district works with intervention groups to reach out to juveniles to provide opportunities to "deter themselves from a life of crime."
In other news, community policing Sgt. Jermaine Harris announced that 15th District officer Whitaker was selected to be part of the inaugural cohort Community Leadership Fellows program, which was created to "uplift and highlight the amazing leaders" on Chicago's West Side.
"The idea is, how do we take individuals who live, work and lead in West Side communities and provide them with skills and the networks to help them ascend as that next generation of leaders?" Harris said.
Martin Anguiano, community engagement manager at BUILD Chicago, announced that Officer William Martinez, youth liaison for the 15th District, was awarded BUILD's "Coco Calixto Community Hero Award" for his commitment and dedication to Austin youth.
Martinez shared upcoming activities for Austin youth and families that include:
On Aug. 20, YourPassion1st will host a youth empowerment event at Columbus Park. Community organizations who want to engage with youth are welcome to participate, Martinez said.
In September, two events will take place at Columbus Park: a 24-hour camping trip and a first responders fishing event. The dates will be confirmed shortly, Martinez said.
In October, SLAM will continue to create a "safe space for youth" on the West Side, said Will Wagner, program director of GRIP's sports-based program SLAM.
The program, which has alternated between two locations, one on the West Side and one in the Near North neighborhood, will now have its own space on the West Side, potentially at Michele Clark Academic Prep High School, he said. He invited community leaders to refer high school and middle school students to the program and to volunteer to run it.
For questions about the 15th District's upcoming activities, visit the office on 5701 W. Madison St. or call (312) 743-1495.