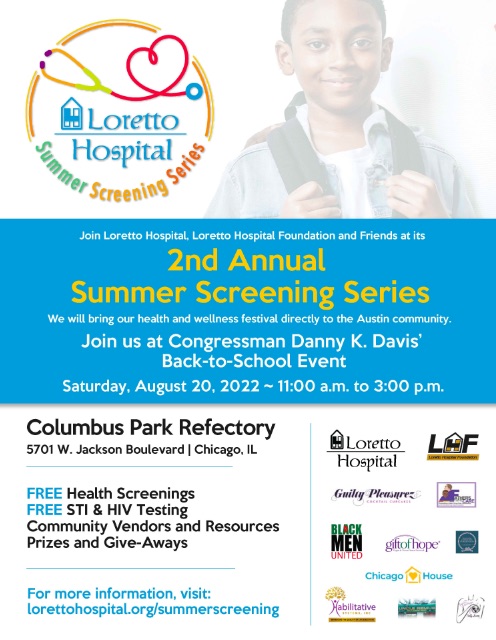 CPS students still needing school supplies before Monday's first day of class can stop by any one of several events being held this weekend.
Congressman Danny K. Davis is hosting his annual parade and back-to-school celebration on Saturday, and Loretto Hospital will be there offering free health screenings from 11 a.m. to 3 p.m. at Columbus Park Refectory, 5701 W. Jackson.
Also Saturday from 12 to 4 p.m., The Hatchery at 135 N. Kedzie in Garfield Park is hosting an event with giveaways.
The Taste of Austin youth empowerment back-to-school festival will also be held at Columbus Park from 12 to 8 p.m. Saturday. There will be food, culture, hands-on experiences, performances, a fashion show, art, music, raffles, hiring opportunities, community resources and more.
And on Sunday, free school supplies will be handed out at in the Austin Public Library parking lot at 5724 W. North from 3 to 6 p.m. Children must be present to receive supplies, with supplies being limited.
In recent weeks, Chicago Public Schools hosted 10 back-to-school bashes, including one in Austin at Michele Clark Magnet High School on Aug. 11.
Health screenings by Johnson & Johnson Medtech, eye exams by VSP and backpacks with school supplies were all free to attendees.
"Community partners who joined us at the event to provide free exams shared that this was the first time some families had access to their services," said Carla Calizaire, Johnson & Johnson vice president of diversity, equity and inclusion.
Once again on the first day of school, the CTA will be offering free bus and train rides to all K-12 students and accompanying adults, courtesy of this year's sponsor, Butcher Boy Cooking Oils.
Last year, the CTA's back-to-school program provided nearly 49,000 free rides to students and their parents or guardians. Since the program's debut in 2011, more than 1.1 million free rides have been provided.
Pace and Metra also will be offering free rides Monday.
The CTA will continue to offer students discounted rates of 75 cents per ride on school days throughout the school year.
The discount could help, as CPS continues to struggling with a shortage of bus drivers and some students may need to find another way to get to school. Block Club Chicago reported over 2,000 students were left without a bus ride on the first day last year. About 400 bus driving positions are currently open.
There are also about 75 open crossing guard positions, the Chicago Tribune reported. CPS coordinates the guards; previously that was handled by the Chicago Police Department. Applications are open online, and a civil service exam is no longer required.
AustinTalks reported on budget changes for Austin schools, with some getting more funding this year while others are seeing a reduction because they're enrolling fewer students.
There will be fewer police officers in schools, as Block Club Chicago reported. Local school councils across the city have voted to remove dozens of officers, though Austin College & Career Academy High School will be keeping both officers, Chalkbeat Chicago reported.
Mental health boxes will be distributed at some high schools through the efforts of Find Your Anchor, Children First Fund and Born This Way Foundation. The boxes contain suicide prevention information and other mental health resources.
Applications for fall programs at After School Matters are now open.