The recent mass shootings across America have sparked concern once again for mental and behavioral health that was apparent last weekend at a town hall meeting in Austin.
State Rep. La Shawn K. Ford, who helped organized Saturday's town hall held at the Austin library, began the conversation discussing the causes of violence and ways to prevent it.
Dr. Thomas Huggett of the Lawndale Christian Health Center cautioned about the need to be accurate when discussing mass shootings in relation to mental health.
"We can't blame all the violence issues on the medical issues," Huggett said. "We can't blame all of the violence issues on the individual."
Psychologist Dr. Charles Brown and PCC Wellness nurse Takara Wallace also spoke – noting that many times, violence is caused by lack of resources and structural problems in the community.
Brown said a community that can depend on itself will create a stable environment.
"We fight for a seat at the table, but what we should be fighting for is resources to create our own table," Brown said.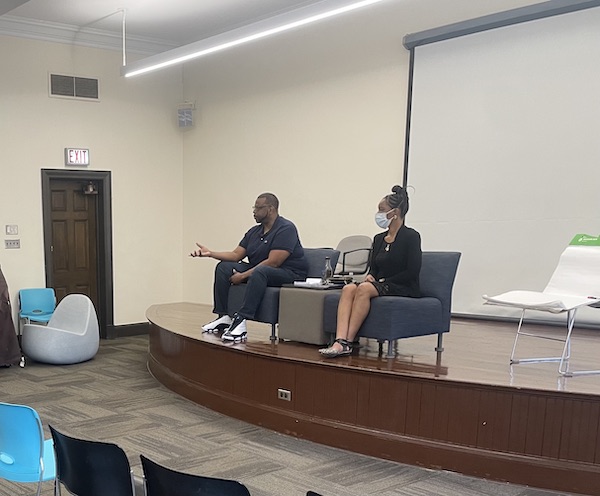 Wallace, who researches cases to identify signs before a violent attack, noted that behavioral care can be effective in preventing violence.
"When someone is going to plot an attack, nine times out of 10 there has been some signs," Wallace said.
If encountering a person in need of mental health help, Wallace advises to direct the person to available resources.
"You can never … say that 'I have to be a superhero to stop an individual from doing this' because the chance that you're able to do that are very slim," Wallace said.
Representatives from Pathfinders, the West Side Heroin/Opioid Task Force and members of Austin's Third Unitarian Church attended the town hall.
There are many groups in and around Austin that provide mental and behavioral help resources, including:  
Youth Outreach Services – 2411 W. Congress Pkwy.
Cook County Austin Health Center – 4800 W. Chicago Ave.
Loretto Hospital – 645 S. Central Ave.
ACCESS Austin Family Health Center – 4909 W. Division St., Suite 508
Austin Oasis – 901 S. Austin Blvd.
            BUILD Chicago – 5100 W. Harrison St.
Center for Healing and Justice Through Sport – 644 S. Cuyler Ave., Oak Park
NAMI Metro Suburban – 814 Harrison St., Oak Park
PCC Community Wellness Center – 5425 W. Lake St.
PCC started construction of a new pavilion last month that will be located across the street from the center on Lake Street. It will be a community area that provides primary and mental health care along with a lifestyle center and urban farm.
Thresholds also will be opening a clinic in Austin later in the summer that offers primary, mental health and substance use care.
Another town hall – with the theme "Alright not to be alright" – will be held at the Austin branch library Saturday, June 25. It will focus on the mental health problems younger generations face and how to end the stigma surrounding mental health.