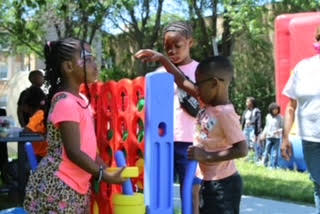 Hundreds of Austin residents celebrated Juneteenth at Columbus Park last weekend at two different events.
The two-day Juneteenth West Fest was hosted by the Westside Arts Council and Columbus Park Advisory Council. Another celebration was held Saturday at the park and organized by Tina Augustus and the Austin Adams Block Club.
Bernard Clay of the Westside Arts Council said attendance doubled from last year with an estimated 200 attendees over the two-day festival. He hopes the number will continue to grow since they plan on holding the event again next year. The first festival was held 15 years ago and returned as an annual event three years ago.
Last weekend's West Fest featured a stage placed on Jackson Boulevard between Menard Avenue and Central Avenue. Austin resident Walter James Charles comes every year.
"We're just glad to be out here with everything opened back up from COVID," Charles said.
Event partners and sponsors lined up tents by the stage, including Chicago Westside Branch NAACP, Parent University and R3 Westside Collaborative Project.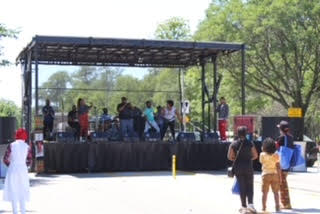 Chicago Westside Branch NAACP President Karl Brinson makes sure his group participates each year.
"We want to come together and enjoy the community," said Pamela Price, Parent University director at Michele Clark High School.
"It takes a village to raise a child – this is the village," Price said.
The West Fest honored Congressman Danny K. Davis for pushing legislation to make Juneteenth a federal holiday.
A couple blocks over in Columbus Park near Adams Street and Mason Avenue, the other event was organized as a community celebration. This was the second year for the Juneteenth block party, and there are plans to make it an annual staple.
The party included face painting, grilling and music by DJ Fly Ty.
"My relatives celebrated Juneteenth for decades, and we always barbeque goat," said George Lawson of the Austin Green Team.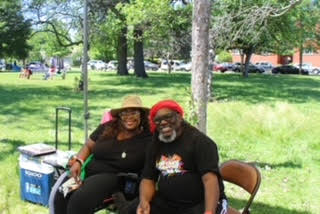 BUILD Chicago partnered with the event to showcase their services and share the news of their new facility. The building, at Laramie Avenue and Harrison Street, will provide a space for young entrepreneurs to start businesses, a fitness center and a mental health center.
History on Wheels founder Luther Johnson spoke to the crowd about the history of Juneteenth. He noted that at least 12 presidents owned slaves, and Galveston, Texas, kept freedom a secret from slaves living there for two years after the Emancipation Proclamation.
Johnson explained why the Black community still feels the effects of slavery today.
"We cut off the plant, but the roots are still there, so it'll keep growing," Johnson said. America needs to address the root causes and make it right, he added.