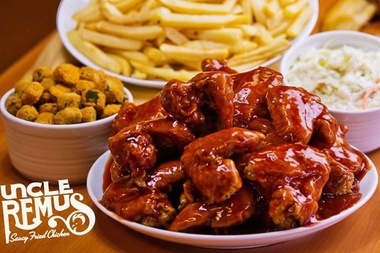 Chicago officials, community leaders, executives of Uncle Remus and Gus Rickette himself officially unveiled the revamped Uncle Remus, 5611 W. Madison Ave.
A ribbon cutting was planned for today, a day before the restaurants is set to open to the public.
"This is such a poignant moment to remind us of how much can be accomplished when the public and private sector come together, and when perseverance and hope win the day," the restaurant said in a statement.
Monday's grand re-opening was made possible by a $160,000 grant from INVEST South/West, the community improvement initiative under Mayor Lori E. Lightfoot to marshal the resources of
multiple city departments, community groups, and corporate and philanthropic partners
for 12 commercial corridors in 10 West and South side neighborhoods.
Helping celebrate the reopening along with Rickette, who founded the eatery, was Deputy Mayor Samir Mayekar; Charmaine Rickette, CEO of Uncle Remus; Ald. Chris Taliaferro (29th); Jim Harbin of the city's Neighborhood Opportunity Fund; and Maurice Cox, commissioner of the Chicago Department of Planning and Development.
Gus Rickette and his wife moved to Chicago to escape the Jim Crow South in the 1940s. By the early 1960s he had saved enough money from menial jobs to became an entrepreneur in the fried chicken business.
His business grew but endured hard times as well. In the riots in 1968 after Dr. King's assassination, the store burned down. But he rebuilt through hard work, faith and a dedication to serving the community.
Over the years, Uncle Remus has become an institution on the West Side, employing many residents and giving a second chance to countless people within the community. Today, Uncle Remus is modernizing and expanding with Gus' daughter Charmaine Rickette leading the business.