Austin moved one step closer this month to getting another grocery store.
EATS Groceries store submitted a $5 million grant request to Chicago's INVEST South/West program to fund the opening of a store in Austin. If the grant is approved, it would be at least a year before the store could open.
The social enterprise has explored the idea of opening a store on the West Side over the past few years, said Tom Alcazar, founder of EATS Groceries, which he described as a for-profit with a social purpose.
In 2016, the Chicago Tribune reported on EATS Groceries' proposal to open a store in North Lawndale, but the idea never materialized. Later, Alcazar, a former Austin resident unsuccessfully explored the possibility of occupying the former Moo & Oink building. And in 2020, there were talks of opening a location in Maywood, Alcazar said.
If its latest proposal is approved, EATS Groceries would be opening a store at an undisclosed location on Madison Street, offering an option for residents to purchase fresh foods in an area where other grocery stores have closed.
The store will provide shoppers with an in-store online shopping experience in a food distribution warehouse. Customers shop on touch screens; once their order is placed they wait in the in-store café or visit an entertainment center where there will be cooking demonstrations.
Shopping orders are picked, packed and loaded by shopping concierges who carry the order to the shopper's vehicle, shopping cart or courtesy shuttle bus, which will get shoppers within a 1-mile radius to and from the store.
"Most of what you get in these communities is a lot of grandparents raising kids and single moms," Alcazar said. "When they come in, they get to send their kids to the kids' zone. And then, they get to shop either from the café on a touchscreen or from one of our touchscreen kiosks. And everything is concierge service. So while they are shopping, our warehouse crew is picking and packing."
EATS Groceries hires local residents, including formerly incarcerated individuals and single mothers, Alcazar said.
Alcazar said opening a store in Austin will be a tribute to Timuel Black Jr., a civil rights activist and historian who served as a board member and mentor of EATS Groceries. Black died in October.
Ald. Jason C. Ervin (28th), who was not available for comment, supports the project, Alcazar said.
Several blocks north, Forty Acres Fresh Market continues to work on its brick and mortar store in the 5700 block of West Chicago Avenue, in the former Salvation Army building. Plans to open the store have been underway since the end of 2020, as reported by Block Club Chicago.
Block Club Chicago reported last week the city is backing the Black-owned supermarket that will be located along Austin's Soul City Corridor with a $2.5 million grant, funded through the Chicago Recovery Plan. The grant will be help pay for the rehab of the building, which used to house a Salvation Army store.
The project is in the design development phase, and Forty Acres Fresh Market expects to apply for construction permits in coming months. Construction will begin once the city approves the permits, a process that could take three to five months, said Liz Abunaw, owner of Forty Acres Fresh Market.
In the meantime, Soul City Fresh Market is using the building to host weekly indoor pop-up fresh markets every Saturday from 9 a.m. to 3 p.m. and every Sunday from 10 a.m. to 3 p.m. that will run through March 27.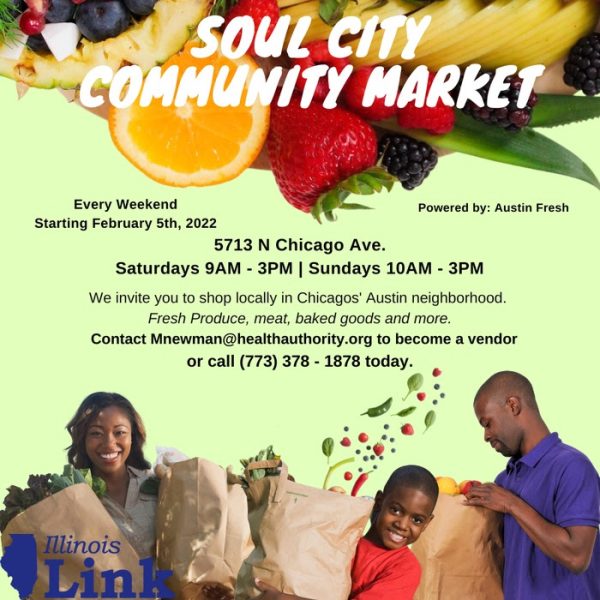 Besides providing Austin residents access to fresh foods, the weekly pop-up market contributes to Forty Acres Fresh Market's long-term vision of successfully operating and staying in the community.
With a history of grocery stores closing in the Austin and West Garfield neighborhoods – including the Aldi at 3835 W. Madison St., which abruptly closed last October – it is important to ensure that "once a grocery store opens, it remains open," Abunaw said.
"If you think about it, that's progress towards the store," she said. "If you get people used to coming to that building for food, to buy groceries, even if it's not a grocery store right now, it just builds that habit."