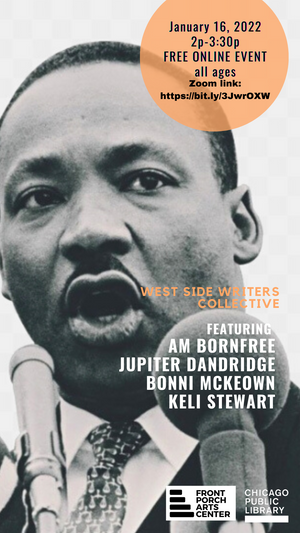 West Side Writers Collective, a home-grown literary group sponsored by Front Porch Arts Center, will hold a free public reading of local poetry, essays and stories.
"Dreamscapes and Landscapes" will honor Dr. Martin Luther King Jr.'s community visions Sunday from 2 to 4 p.m. Zoom in partnership with Chicago Austin Public Library. (Use the link: https://bit.ly/3JwrOXW.
"When you go looking for Black West Side of Chicago history, you will rarely find it in books, although we have rich history and early settlements of African Americans on the West Side have been traced to the early 1920s," said Keli Stewart, Front Porch Arts founder and Austin resident. "You will find it on front porches, in taverns, churches and on park benches."
Sunday's program will open with a 15-minute open mic for youth and adults to share their own creative writing around Martin Luther King and community issues. Rev. King and his wife Coretta are part of West Side history, as they lived at 16th and Hamlin in 1966 while working on a Chicago fair housing campaign.
Four local writers will each read from their work. Stewart will present poetry from her book Small Altars, published this year by Bronzeville Books. Am Bornfree will read from her novel Welcoming Mad Era, the first book in her "Revolt Occult" series, slated for publication in 2022. Bonni McKeown will read from her novel in progress, Delta Song, the story of a young bluesman growing up during the Great Migration. And Jupiter Dandridge, a fiction writer and poet, will read from his work.