About 50 Austin community members gathered last weekend for a spring cleaning rally.
The effort was organized by Wecycle, described by CEO David Fleming as a "community revitalization, cleaning service."
Fleming said he and his children love going to Oak Park because it's a beautiful area.
"But we have a beautiful place here [in Austin]. We have beautiful culture. We have beautiful infrastructure."
Fleming said he wants residents "to feel like, 'Hey, I want to be here in the Austin village.'"
Volunteers gathered Saturday at 5922 W. Division St. at 10 a.m. and made their way east to Central Avenue, where they turned south. At Central and Chicago avenues, they turned west onto the Soul City Corridor, picking up trash and washing storefronts along the way.
The event ended at 5840 W. Chicago Ave., next to the Boombox, with food, drinks and an Easter egg hunt for the kids.
Austin local Shimera Jones said the event created some hope for those who came out.
"It starts with just picking up trash, then we might start cleaning up the violence and the drugs and all the other bad things that happen in this community," she said.
Jones and her sister came to the clean up event together. "We just feel like this is the right thing to do," she said.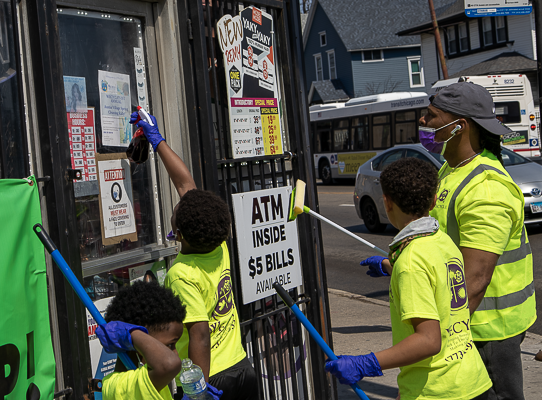 As reported by Austin Weekly News, Fleming, an Austin native, started Wecycle in June 2019.
Fleming said the idea for Wecycle came to him while driving for Uber.
He had just dropped off a passenger in Winnetka and wanted a piece of gum.
As he went to pitch the wrapper out his car's window, he stopped himself. "I didn't because the place was so clean," he said.
Not long after, he dropped a different passenger off near Douglass Park, and this time he did toss the wrapper on the ground.
"I got about 10 feet away, and it dawned on me: Why did I just do that in my own community as opposed to doing it in Winnetka?"
Fleming went back and picked up his wrapper. As he looked around, he said he realized he'd dropped it without thinking because the area was already dirty.
He told himself, "I've got to be part of the solution and not the problem," he said. "And hence the birth of Wecycle."
Fleming said Saturday went great, but there's still work to do.
"We're going to get this place nice. We're going to go green. And we're going to get it beautiful."