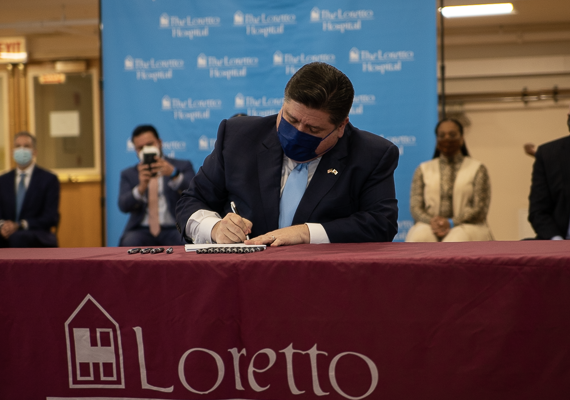 Gov. J.B. Pritzker signed the Healthcare and Hospital Transformation bill Friday at The Loretto Hospital.
The law, which passed the Illinois General Assembly in January, authorizes $150 million for safety net hospitals, specialty care access efforts, cross-provider initiatives and workforce development, with a specific eye on underserved communities, Gov. Pritzker said.
Senate Majority Leader Kimberly Lightford, who represents the West Side, said in a press release the legislature had seen the disproportionate impact COVID-19 has had on Black and brown communities, like Austin.
"Putting these critical dollars into partnerships that will address the systemic inequities that exist will make for a healthier Illinois overall," she said.
Pritzker called the bill "a much-needed step in the direction of healthcare equity."
"We must demand true wellness for all of our neighbors for all of Illinois."
No one should have to grapple with balancing money and medical care, Lt. Gov. Juliana Stratton said alongside other elected officials who gathered at Loretto.
"Can I afford to call an ambulance? And how much does it cost? Will my insurance cover it, or what do I do since I don't have insurance? No one, and I mean no one, should have to endure this," she said.
Rep. Camille Lilly led efforts to get the bill – part of the Illinois Legislative Black Caucus' health pillar – approved. She said the legislation takes into account "glaring issues that COVID-19 … has spotlighted."
"It's been said, and I'd like you to remember, healthcare is a right," said Lilly, who also serves as Loretto's chief external affairs officer.
The new law treats healthcare as an integrated model, allowing communities to assess their specific health needs and collaborate across the medical spectrum from hospitals to preventative care and specialty providers, including those who serve mental health and substance abuse populations, she said.  
Funding is available to eligible providers across six categories, according to a press release.
Those categories are: collaboratives anchored by safety net hospitals, safety net-anchored collaboratives dedicated to specialty care access, critical access hospital-anchored collaboratives, collaboratives in distressed communities, cross-provider care partnerships and workforce innovation and diversity inclusion collaboratives.
Entities who already have plans ready to go must apply by April 9 for the program's first round of funding. All applications "will be evaluated using a racial equity lens before funds are awarded," according to the press release.
The bill addresses one of the four pillars put forth by the Illinois Legislative Black Caucus. Education legislation was signed by the governor last week, while a sweeping criminal justice reform bill was signed in February.
The economic access and equity bill was sent to the governor in early February and is awaiting his signature.