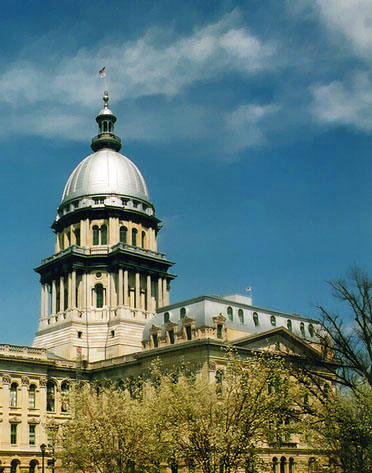 Dozens of new state laws took effect Sunday, some of them pushed by legislators who represent Austin in the Illinois General Assembly.
From policies directed at keeping low-level offenders out of prison to conflict resolution training for police officers, Austin lawmakers say the session that ended May 31 was a success. This was the first time in a few years the Democrat-controlled legislature and Republican Gov. Bruce Rauner were able to agree to a new state budget before the fiscal year began.

Rep. La Shawn Ford (8th) focused on pushing laws that prevent people with low-level, non-violent offenses from going to prison.
Another bill Ford said he was proud passed this year requires health insurance plans to cover residential care service and support for individuals who struggle with drug abuse or alcoholism.
"It really allows for individuals to stay in residential treatment longer," Ford said.
Other legislation Ford helped push this year includes HB5201, which limits to two years the time allowed to file suit on a property lien or else it is dismissed. Ford said liens have sometimes remained on properties for 20 to  30 years, preventing people from refinancing or selling their homes.
With the intention of keeping low-level offenders out of prison, Ford also sponsored legislation that reduces the penalty of driving on a suspended license due to civil penalty from a Class A misdemeanor to a citation. HB3920 is still awaiting approval from the governor.
"There's no reason for people to go to jail for a non-violent offense; now they're going to get a citation," Ford said.
Some of Ford's other bills, which were referred to the Rules Committee at the end of the session so were not approved, include HB4743, which ensures African Americans receive equal pay as their counterparts in the workplace and HB5510, which denies currency exchange hikes when cashing checks or making money orders.
Ford also sponsored HB2367, which proposed expunging the criminal records of low-level, non-violent offenders who have served their sentences. Although the bill was not passed, Ford said he looks forward to moving it forward next year and believes he will receive more support with some changes.
While Ford took a focus on preventing low-level offenders from landing in prison, Sen. Kimberley Lightford (4th), vice chairwoman of the Senate's Education Committee, focused her attention on providing resources for schools and ensuring the safety of students.
To encourage schools to administer a survey tracking students' physical and mental health, Lightford pushed SB2345, which makes school report cards public and notes which schools have participated in the voluntary survey. The bill is currently awaiting the governor's approval.
"I thought that a more effective way of trying to improve the Illinois Youth Survey turnout is to add it to the school's report cards and perhaps catching the interest of principals and the administrators who will want to administer the survey," Lightford said.
Lightford said if more schools administered the survey – which covers drug and alcohol use, school climate, experience with violence, nutrition and depression – it would help them gather data that could be used to help secure public funding. Lightford added that although parents and students are sometimes unwilling to speak about mental health out of fear they will be stigmatized it is important to gauge who needs help so that resources can be properly allocated.
"We are sending our kids to get their physical health checked, we want their eyes examined, and we want them sent to the dentist so they have straight teeth, but we have not taken on a concern for their mental health."
Rep. Camille Lilly (78th) worked to improve the resources provided to schools and to ensure that students are prepared for the workplace when they graduate.
Lilly pushed through legislation that requires schools to teach a work ethics curriculum, created by the Illinois Workforce Development System, from 6th grade to high school.
Lilly said she was inspired to draft the legislation after serving as executive director of the Austin Chamber of Commerce. During her time there she saw a drop in businesses participating in a student summer work program because businesses didn't think students were qualified.
"It's critical that we equip these young people with the information they need to succeed when they join the workforce," Lilly said. "Our young people are our future, and if we don't equip them, they are going to be challenged."
Lilly also drafted a bill that would require schools to teach classes on civil engagement; because the bill has already passed the House, Lilly said she is confident the Senate will also approve when the next session begins in January 2019.
Lilly also sponsored SB2332, now awaiting Gov. Rauner's signature, which would raise the legal age to purchase tobacco products from 18 to 21 statewide.
"It's a public health issue, and we as a people cannot afford to continue to pay for the profitability of the tobacco industry and the lives of our children," Lilly said.
All three lawmakers also sponsored a joint resolution, originally crafted by Ford, to name an 80-mile stretch of Interstate 55 the Barack Obama Presidential Expressway.
Ford told the Chicago Tribune he proposed the resolution to create a discussion among young people who weren't around for former President Obama's years in office. Signs have been placed along the highway, though no official ceremony has been held with the former president, whose schedule has prevented him from participating.
"I think just the fact that the president was able to defy the odds, you know, it was inspirational for me," Ford told the Tribune. "As it was for people of all races and ethnicities and people of all walks of lives."
Contact information for Austin lawmakers:
Rep. La Shawn Ford (8th)
Springfield: (217) 782-5962
District: (773) 378-5902
Sen. Kimberley Lightford (4th)

Springfield: (217) 782-8505
District: (708) 343-7444
Rep. Camille Lilly (78th)

Springfield: (217) 782-6400
District: (708) 613-5939