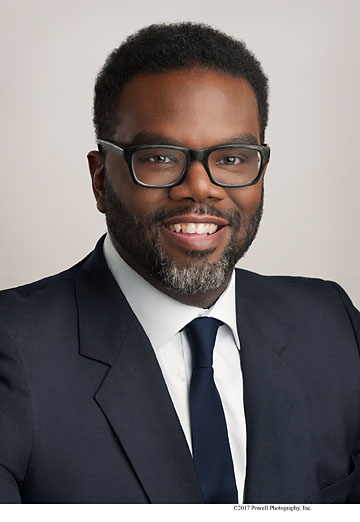 The close race for the Cook County Commissioner 1st District seat officially came to an end Monday afternoon when incumbent Richard Boykin called challenger Brandon Johnson to concede.
Johnson announced Boykin's concession in a press release stating the incumbent had called to congratulate him on his victory.
The race was still in flux by 302 votes late last week as previously reported by AustinTalks. Boykin said his decision to concede was based on the number of outstanding votes.
"There were not enough remaining votes for me to catch up to his lead, so I decided it was in the best interest of the constituents of the 1st District for me to concede," Boykin said.
I want to thank the people of the 1st District from the bottom of my heart for giving me an opportunity to serve: https://t.co/M4xwlO3nN4

— Richard Boykin (@RichardRBoykin) March 26, 2018
As of Monday, Johnson's lead had climbed to 436 votes; Johnson had 24,765, while Boykin had 24,329.
The Cook County clerk's office were reporting Boykin's votes from suburban precincts at 12,041 versus Johnson's suburban votes at 13,731.
The Chicago Board of Election Commissioners reported the total city votes for Boykin at 12,288, with Johnson at 11,034.
"I will do what I can to ensure he has a smooth transition," Boykin said.
The commissioner said he will help prepare Johnson for his new role by answering any questions and providing county documents.
No Republican sought that party's nomination in last week's primary, so Johnson has no opponent in the Nov. 6th general election.
Boykin will serve as commissioner until Nov. 30. Johnson, a former public school teacher and union organizer, will be sworn into office in December.
Johnson thanked Boykin, an Oak Park resident and former chief-of-staff to Congressman Danny Davis, for his service
"I look forward to serving the interests of my constituents and fighting to bring equity and inclusion to all of Cook County," Johnson said in a statement.