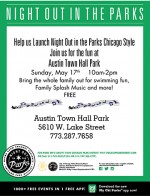 The Chicago Park District will launch "night out in the parks" Sunday, May 17 at two Austin sites.
The whole family is invited for swimming, music and more at Austin Town Hall, 5610 W. Lake St., from 10 a.m. to 2 p.m.
Everyone is invited for a family steppers workshop at Columbus Park, 500 S. Central Ave., from 11 a.m. to 1 p.m.
Both events are free.