PCC Community Wellness Center has been awarded the prestigious LEED® green building certification.
The new 2-story, 18,300-square-foot Austin Family Health Center opened last year at 5425 W. Lake St. to provide expanded healthcare access to Austin.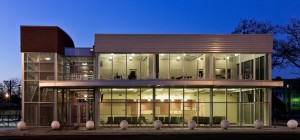 Because of the building's environmentally friendly design features, the center has been awarded Leadership in Energy and Environmental Design (LEED) gold certification by the U.S. Green Building Council.
PCC is the first community health center in the state of Illinois to achieve gold-level LEED certification.
"Our new facility serves as an innovative landmark for the Austin community," said PCC President and CEO Robert Urso. "This is not only a beautiful building, it is one that the people of Austin can be proud of."
An innovative team collaborated to design and construct the site, including architects Manske Dieckmann Thompson, Madison Construction and Kingdom Community.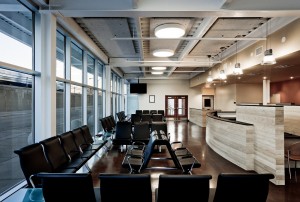 The center, which is expected to accommodate 32,000 annual patient visits, houses 15 exam rooms, a dental suite, behavioral health counseling rooms, health education and community meeting rooms.
It achieved LEED certification for energy use, lighting, water and material use as well as incorporating a variety of other sustainable strategies.
The site boasts a number of cutting-edge design and construction features, including a green roof; drought and salt tolerant landscaping; ground source heat pumps that use the earth's natural heating and cooling capacities; extensive use of recycled/recyclable materials; large expanses of glass to make use of natural light; solar hot water heating for public restrooms; and energy-efficient light fixtures.
"The building will provide a healthier environment for patients and staff due to our use of low-emitting materials and enhanced supply of fresh air," said Patrick Thompson, partner with Manske Dieckmann Thompson.
"The design and construction of the facility provides optimal patient and staff comfort," added Rob Ferrino of Madison Construction, general contractors for the building. "What makes the design unique is the geothermal heat pump system- operational and maintenance costs are 60 percent less than a conventional system."
And by using less energy and water, LEED- certified buildings like PCC's Austin Family Health Center save money for families, businesses and taxpayers.
"The green building movement offers an unprecedented opportunity to respond to the most-important challenges of our time, including global climate change, dependence on non-sustainable and expensive sources of energy and threats to human health," said Rick Fedrizzi, president, CEO & founding chair of the U.S. Green Building Council. "The work of innovative building projects such as PCC's Austin Family Health Center is a fundamental driving force in the green building movement."
To learn more about the PCC Austin Family Health Center, contact Toni Bush at (708) 524-7687.